Wednesday the 25th of January is a half day for students. We will resume our normal schedule on Thursday the 26th of January.

School will be closed on Monday the 16th of January in observance of MLK. We will return to school on our normal schedule on Tuesday the 17th of January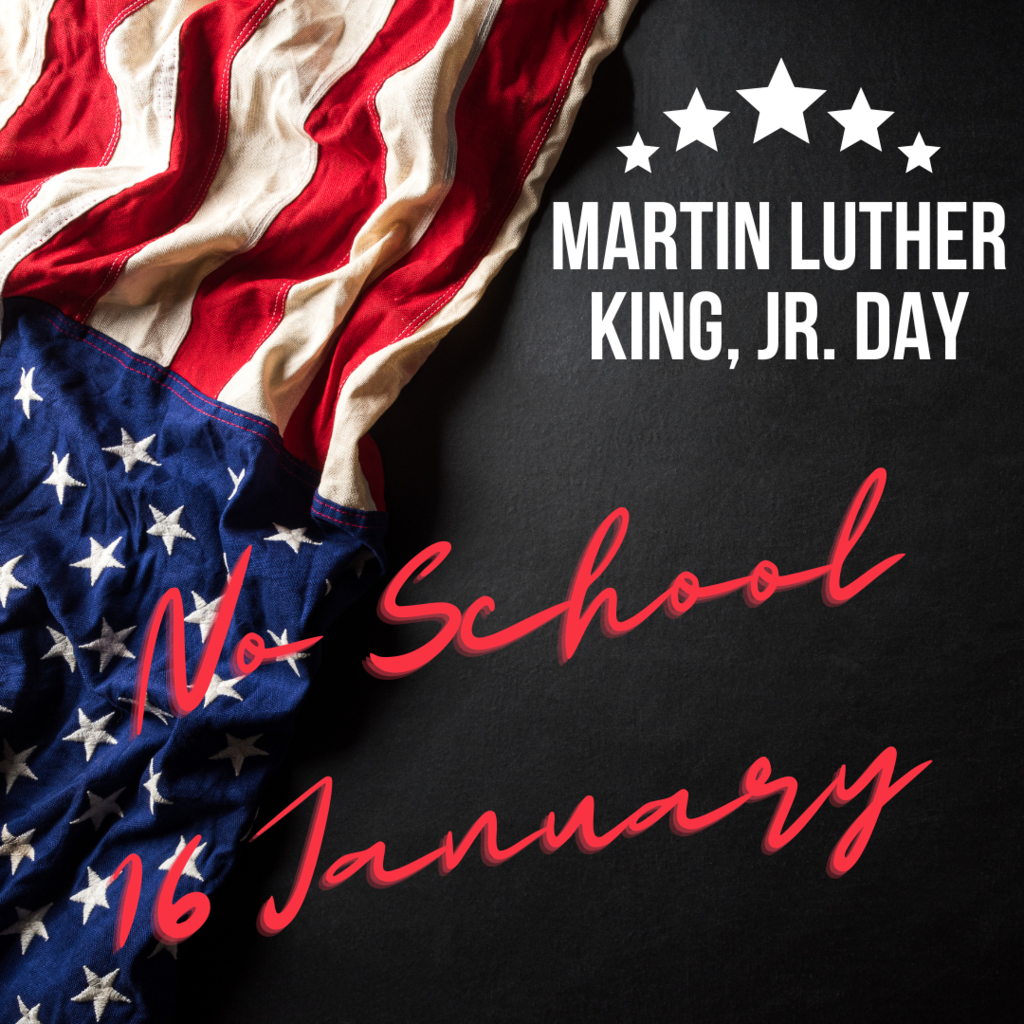 Do you have memories of CFMS during the 2022/23 school year? Want to preserve those memories? If so, it's time to order your yearbook! Only 391 are available, so order yours now! Only $30.00 ***The deadline to order is Friday, March 17th, 2023*** All sales are online, just go to balfour.com and click on the heading "Yearbooks" and follow the "Buy your yearbook" link to put in our school name to get started!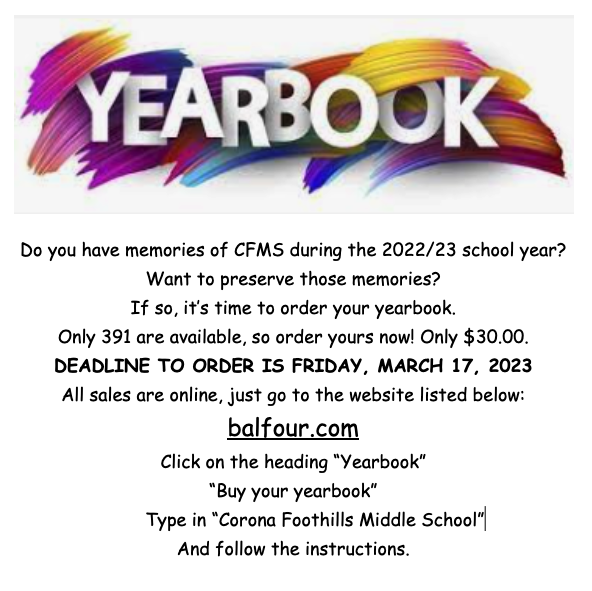 Due to a power outage in December we had to postpone our quarter 2 honors assembly. We have our new date and times! Join us on Thursday, January 12, 2023 in our MPR to celebrate our students' successes! 07:50 am - 6th Grade Both Teams 08:45 am - 7th Grade Gold Team 09:35 am - 7th Grade Blue Team 12:45 pm - 8th Grade Gold Team 1:45 pm - 8th Grade Blue Team See you there!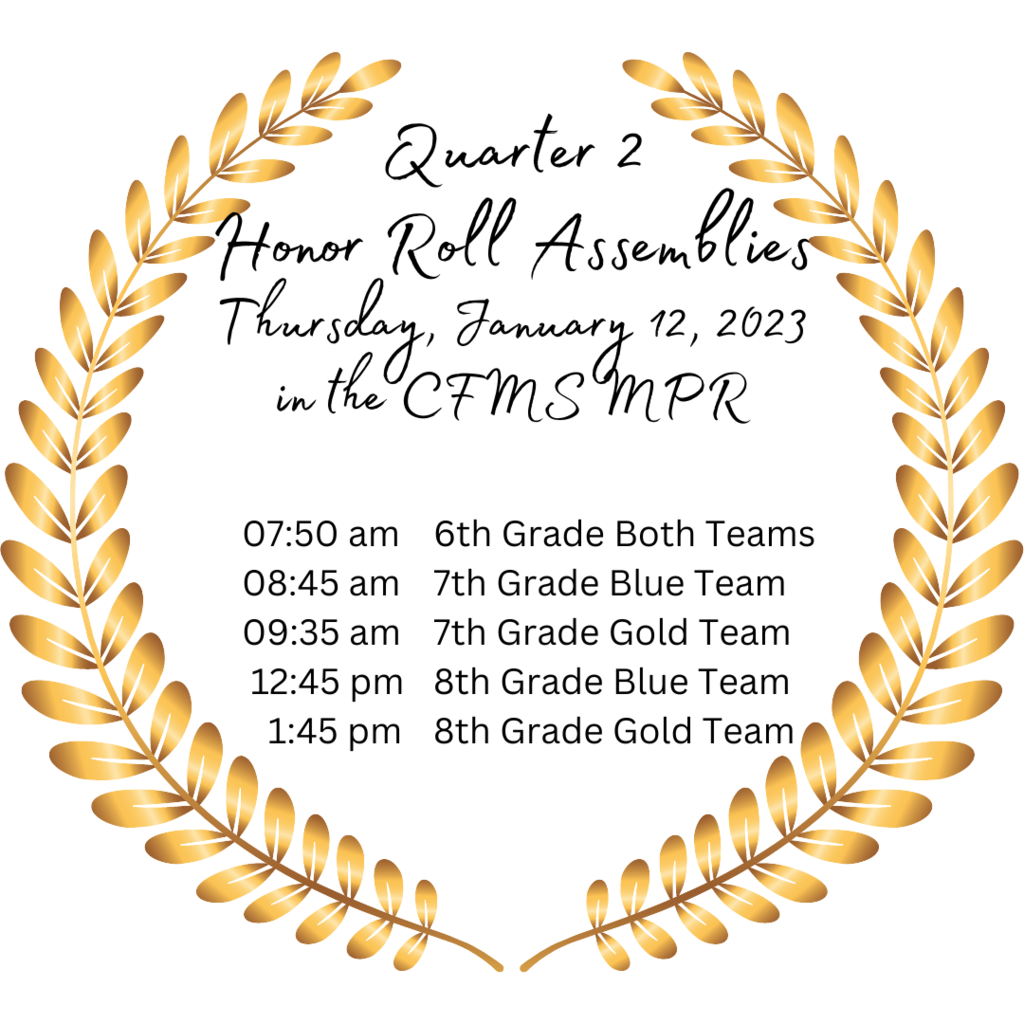 Did you know that Vail parents choose where to send their children to high school? The Vail School District believes in providing parents with a choice of the high school that their children attend. We have created six unique high schools from which you can choose. Through this process, you will have the opportunity to learn more about each of the high schools and choose the school that is the best fit for your child for the upcoming 2023-2024 school year. Each Monday morning you will receive an email from us with your "next steps" in the high school choice process including things you can be doing to help you make the best choice when that time comes. This week is the time to familiarize yourself with each of the high school options and save some dates. Please CLICK HERE to visit our high school choice website where you will find information for each school including their mission/vision, courses, clubs, sports, fine arts, career and technical education programs, and more. And, then save the following open house dates where you and your 8th grader can take tours, ask questions, and meet the principals, teachers, and staff. Tuesday, January 10th - VIC Open House 5:30-7PM Wednesday, January 11th - Andrada Polytechnic Open House 5:00PM -7:00PM Thursday, January 12th - Cienega Open House 5:00PM - 7:00PM Wednesday, January 18th - Empire Open House 5:00PM - 7:00PM Tuesday, January 24th - Vail Academy Open House 5:00PM - 7:00PM Thursday, January 26th - Mica Mountain Open House 5:00PM - 7:00PM All 8th grade families will submit their high school choice rankings online beginning Monday, January 30th on the HS Choice Portal. The process is not first come first served. Choices and changes may be submitted through Friday, February 17th. You will need your parent PowerSchool account information to log onto the Portal to submit your high school choices. Families will be notified of final school placements by email Friday, March 3rd. Contact your school office if assistance is needed with your parent PowerSchool account.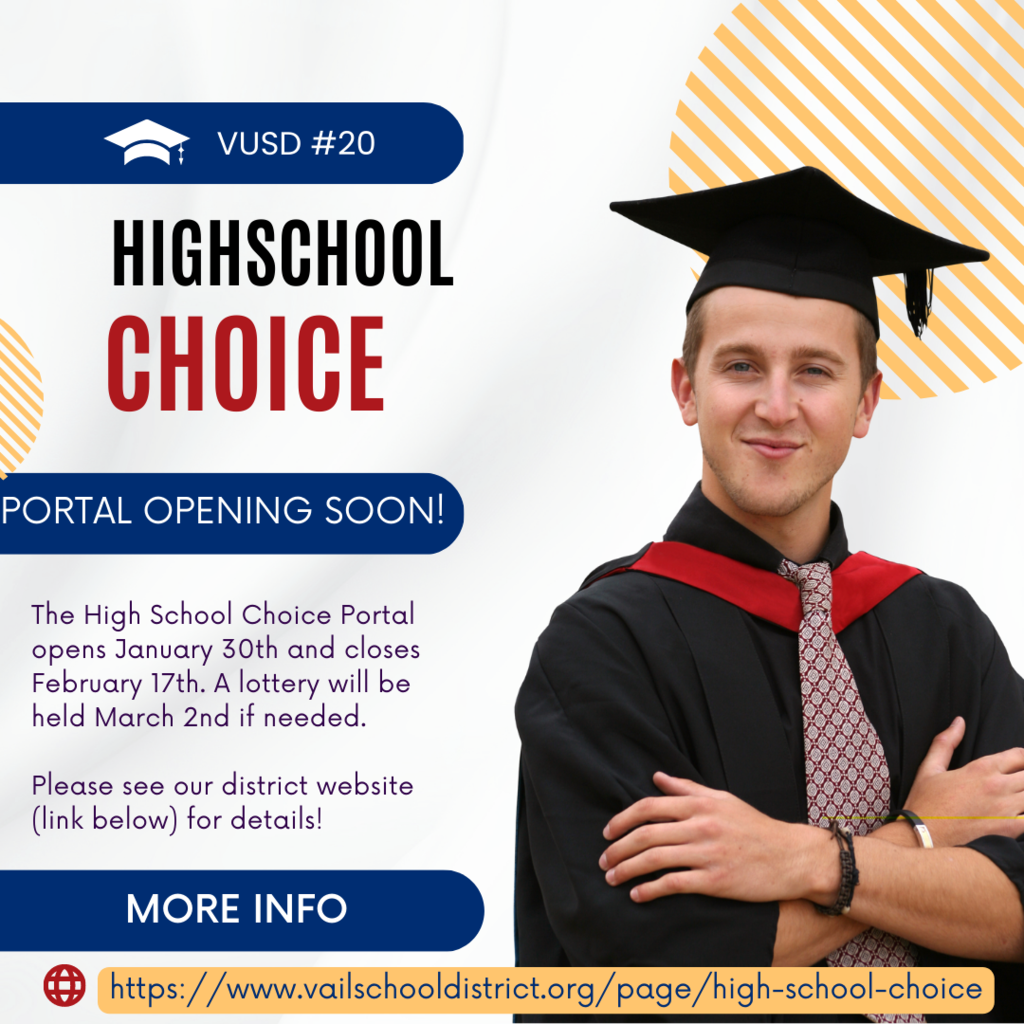 CFMS SPIRIT WEEK – 12/12 to 12/16 Sponsored by NJHS Monday: Pajama Day (Wear your comfy and favorite holiday PJs) Tuesday: Holiday Accessory Day (Wear your favorite holiday hat, antlers, lights necklace!) Wednesday: Zoom Day (Nice shirt and comfy pants, just like when we were on Zoom) Thursday: Ugly Holiday Sweater Day Friday: White Out Day (Wear white for the PTSA Color Run)

Join us for our annual WEB HOLIDAY PARTY!!! Wednesday, December 14th 2:30 p.m. to 4:00 p.m. In the CFMS Courtyard We'll have holiday cookie decorating, games, music, coloring, and hot chocolate! Free to all 6th grade students and WEB Leaders!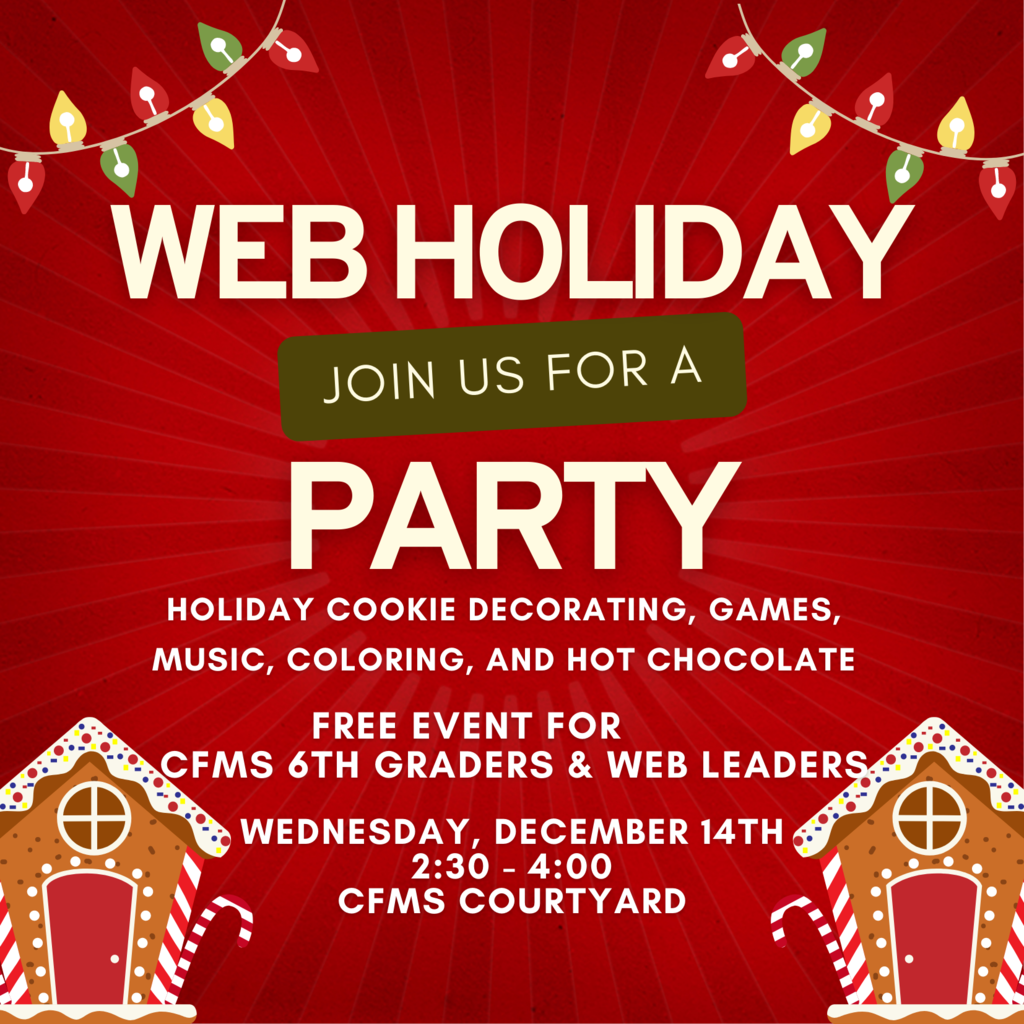 Vail School District's Computer Science Night is TONIGHT – Monday 05 December 2022 – 5:00 p.m. to 7:00 p.m. At Mica Mountain High School Free Computer/Coding/Robotics/STEM activities and games for all ages and skill levels. Free childcare with STEM activities will be provided for non school-aged children. Featuring: Osiris-Rex VEX Robotics Starbase AZ UofA and Pima Community College cyber security 3-D Printing BlockChain Game Edison Robots Hour of Code Robotic Arms Unplugged Coding Games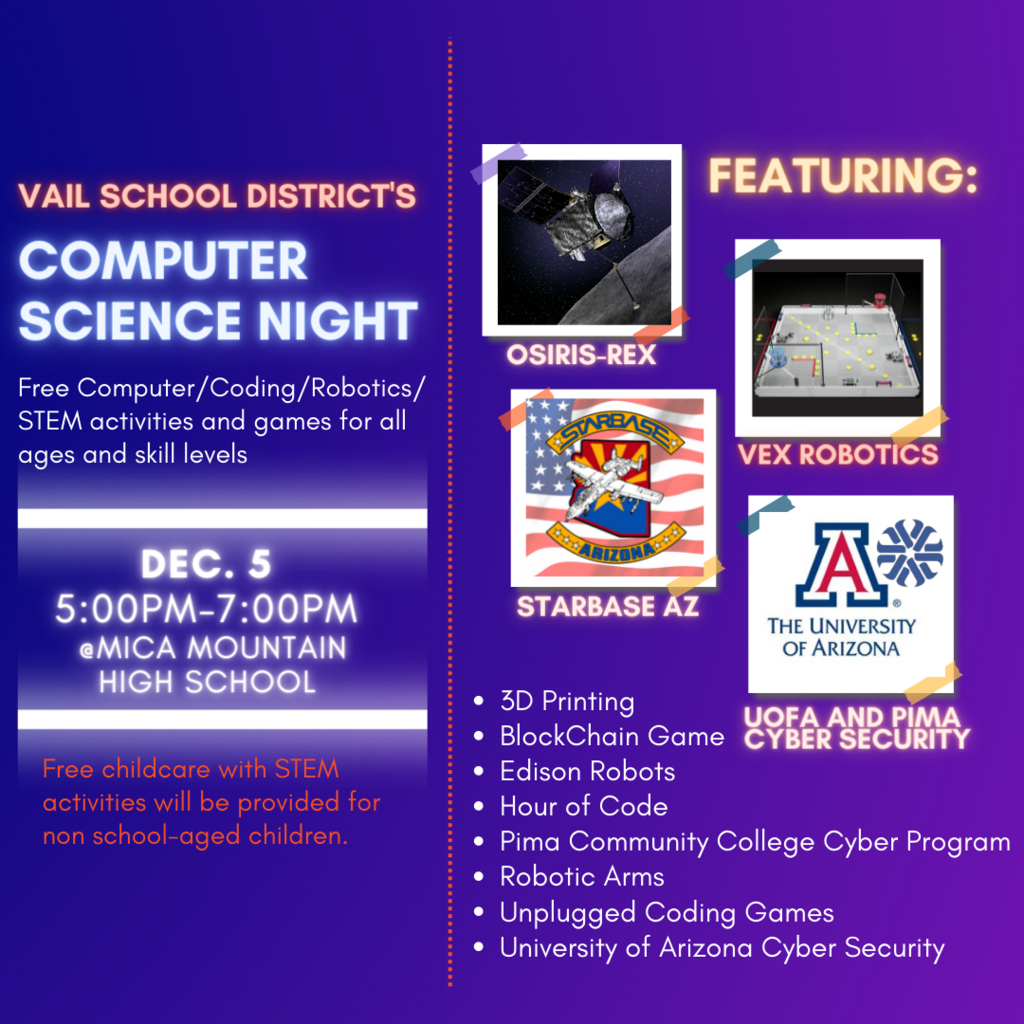 **Reminder** The holiday season is quickly approaching. Many families in our community have severe financial needs and the added expenses of the holiday season cause additional stress and struggles. CFMS has opportunities for you to help support the families in need in our community and help bring a smile to a child's face during the holiday season. What Choose to sponsor a child by purchasing clothes, shoes, and toys. Choose to purchase a $10 gift card. Choose to purchase personal hygiene items. Choose to purchase gift wrap items. When November 14 to December 5, 2022 Where Online sign up How Sign up at
https://www.signupgenius.com/go/9040F4CAFAF2AA1F49-cfms
If you have questions, please contact Briggette Evans, CFMS School Counselor, at 879-3506 or
evansb@vailschooldistrict.org

Love to Skate? Looking for a fun Friday activity? Come support the Corona Foothills Odyssey of the Mind team Friday, December 2nd at Skate Country! Skate with us between 5-7 p.m. and bring family, friends, and anyone else! Admission is $4.00 and skates are available to rent for $5.00. We look forward to seeing you there!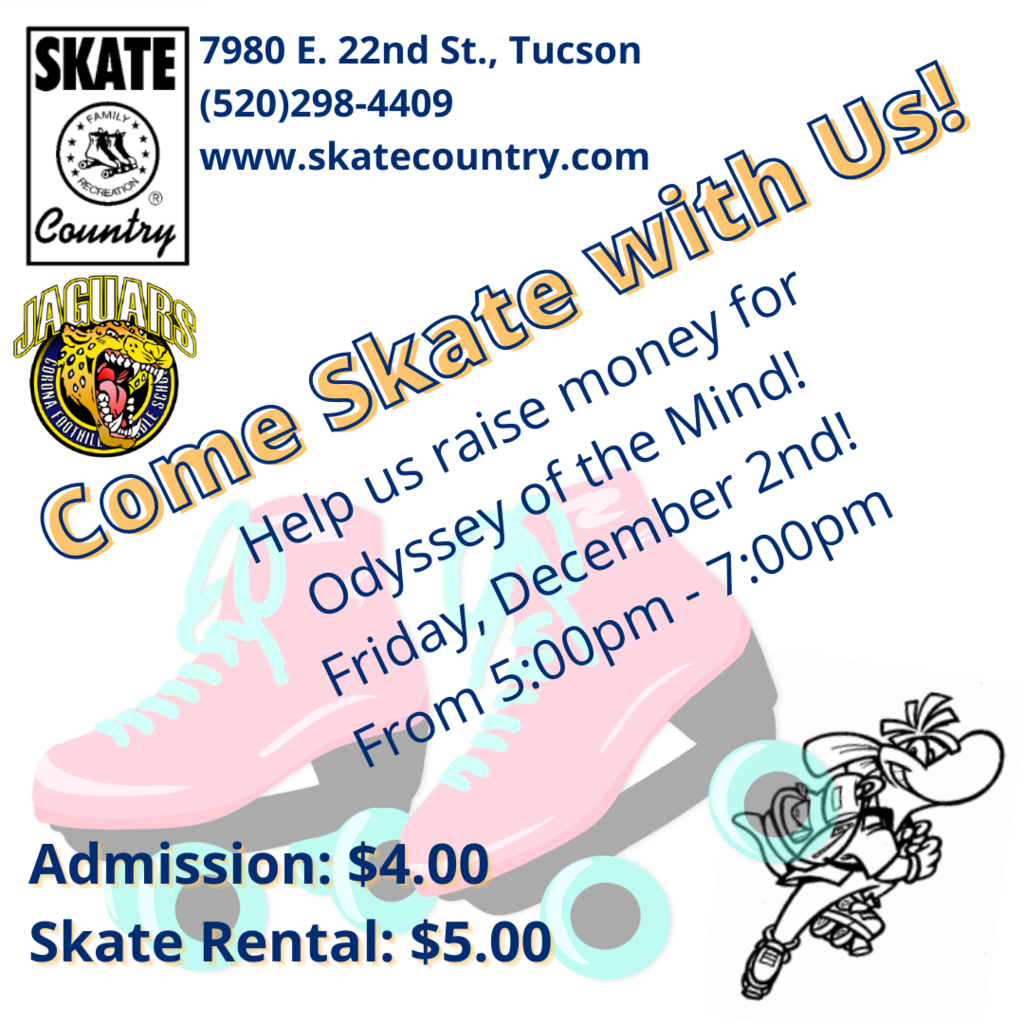 This school week is short! We will be closed for Thanksgiving on the following days: Wednesday 23 November Thursday 24 November Friday 25 November We will resume our regularly scheduled program on Monday 28 November 2022 :)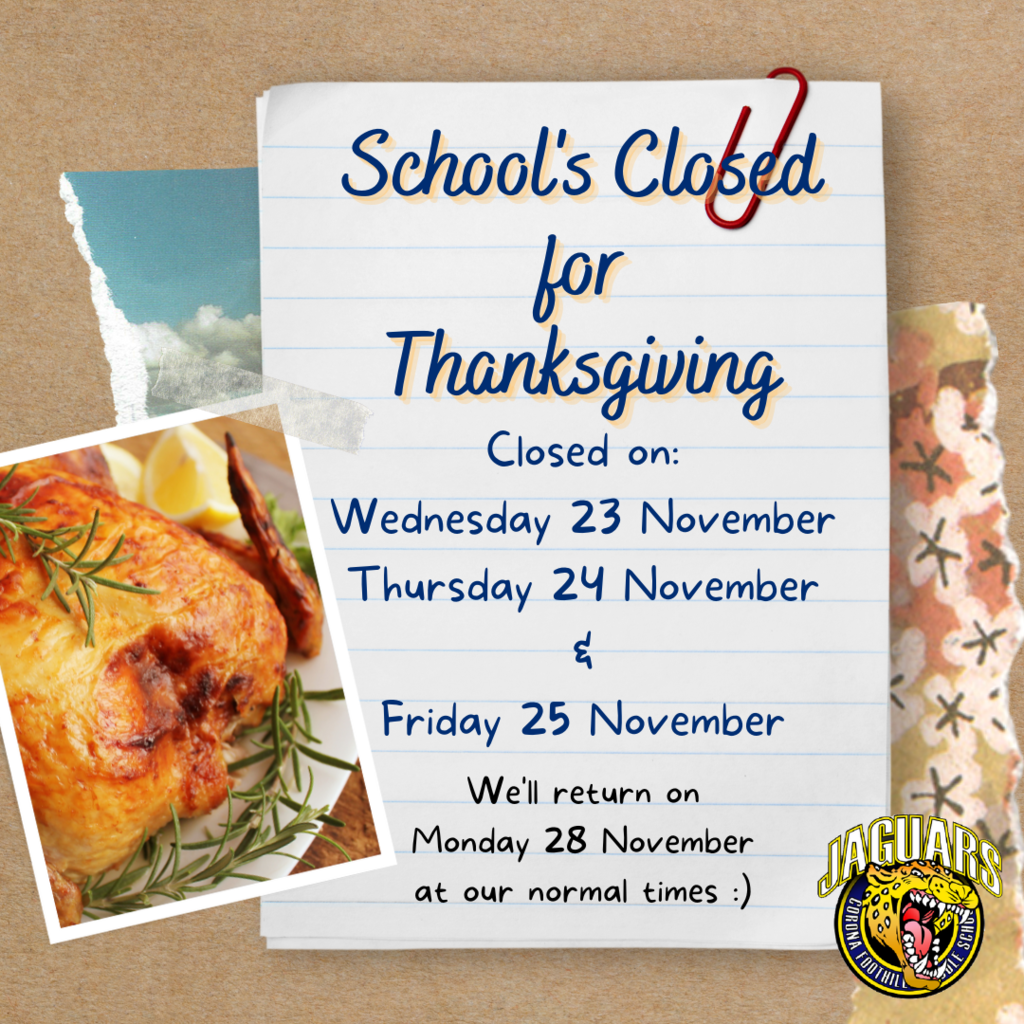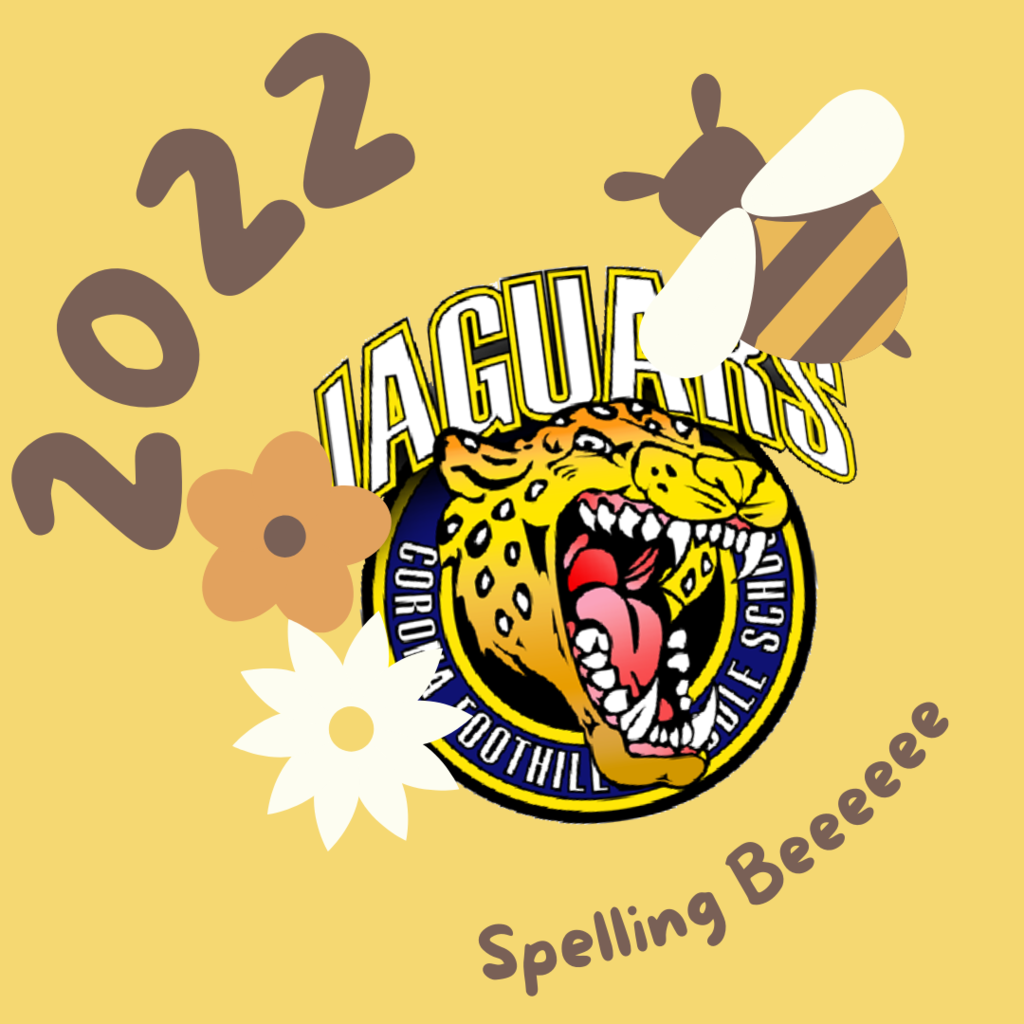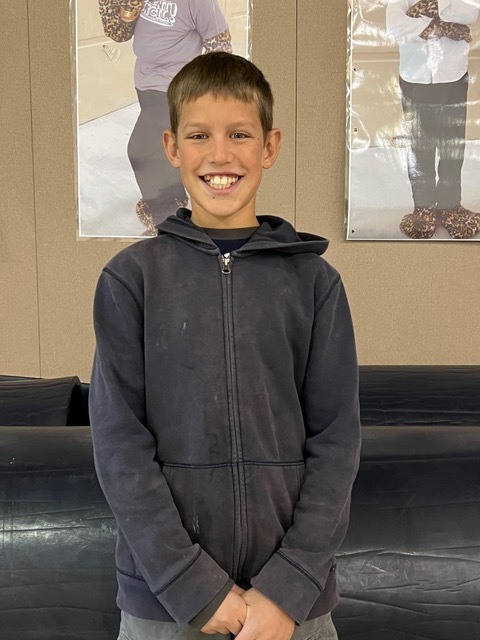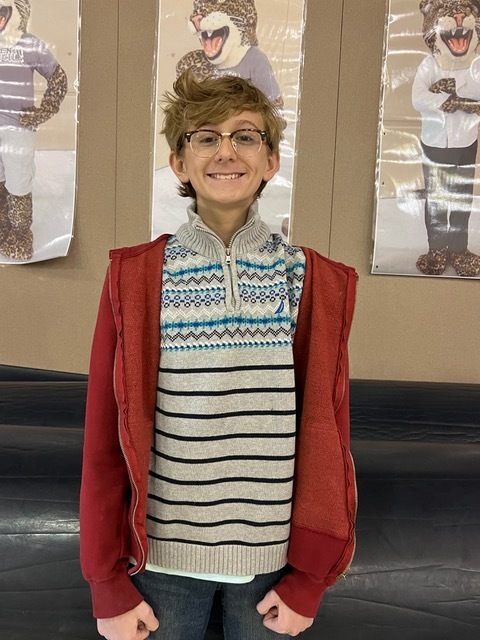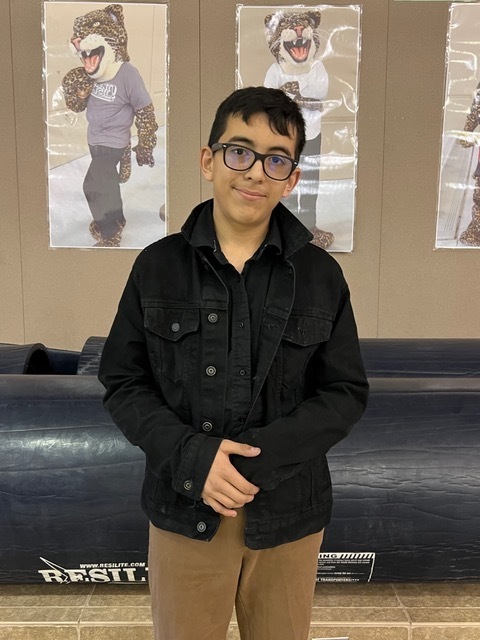 Corona Foothills Middle School will be closed on Friday 11 November 2022 in observance of Veterans' Day. We will return on Monday the 14th.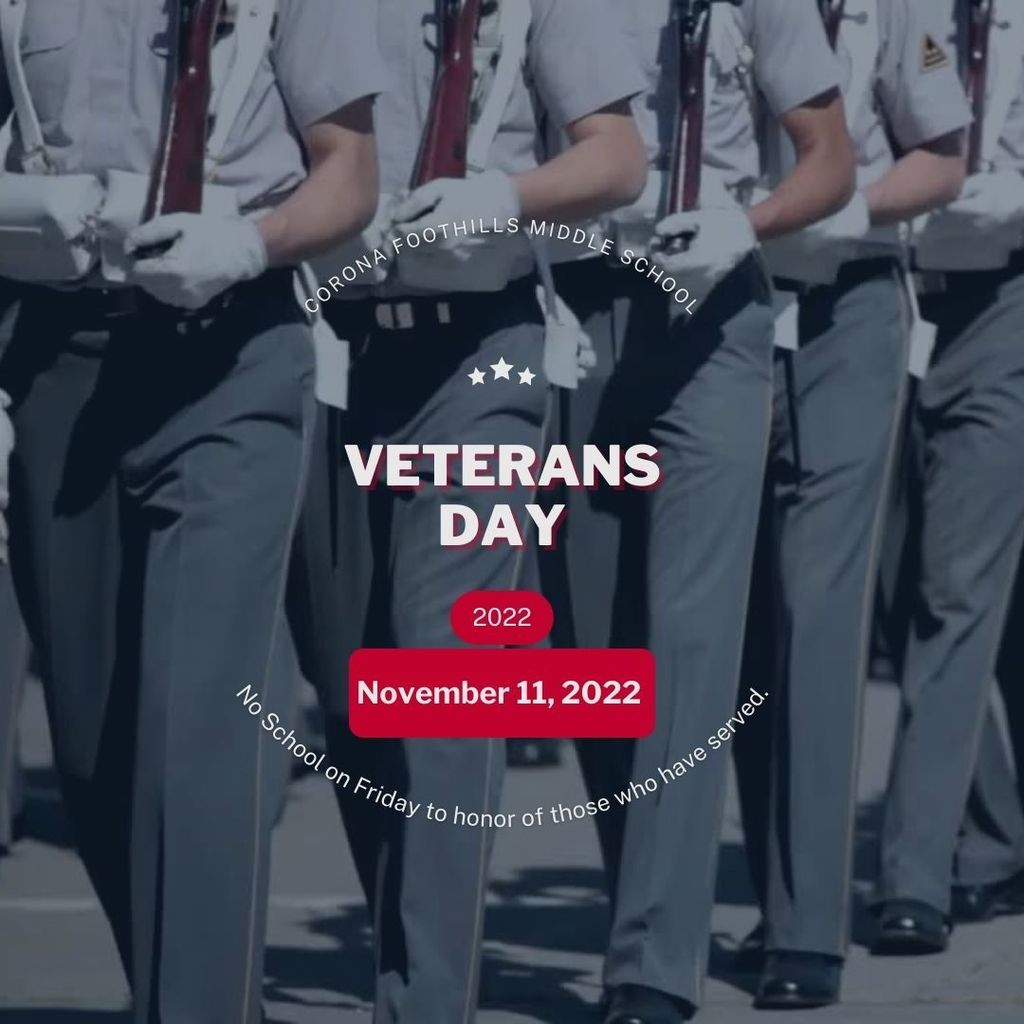 The Corona Foothills Middle School NJHS is sponsoring a canned food drive. Non-perishable items will be donated to the Resource Food Bank. Please help support our community during this holiday season!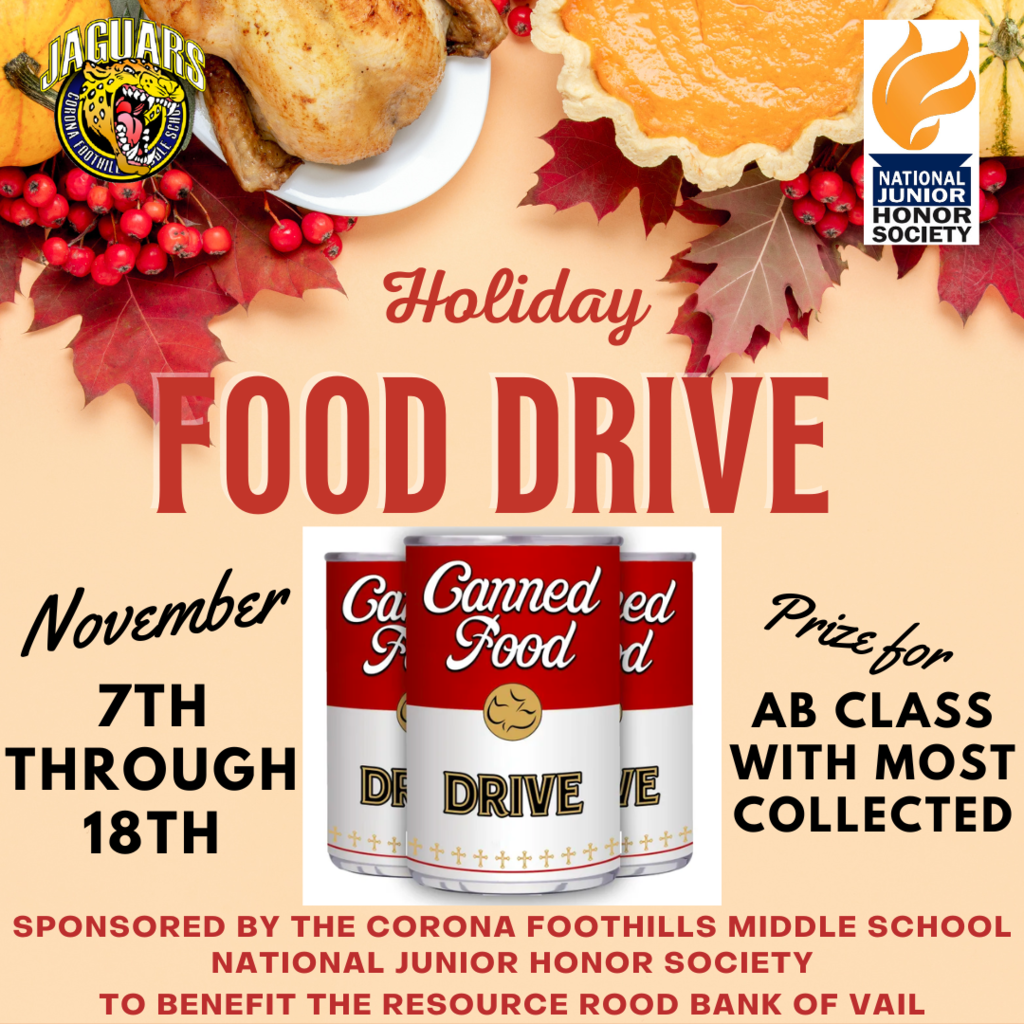 The Jaguar store is back open for a limited time, with new items like long sleeve tees, ringer tees, and baseball style jerseys. Your CFMS kid will love these cool new designs. All proceeds benefit the PTSA.
https://cfmswinter2022.itemorder.com/shop/home/
⏱ Please note: Store closes November 20th, 2022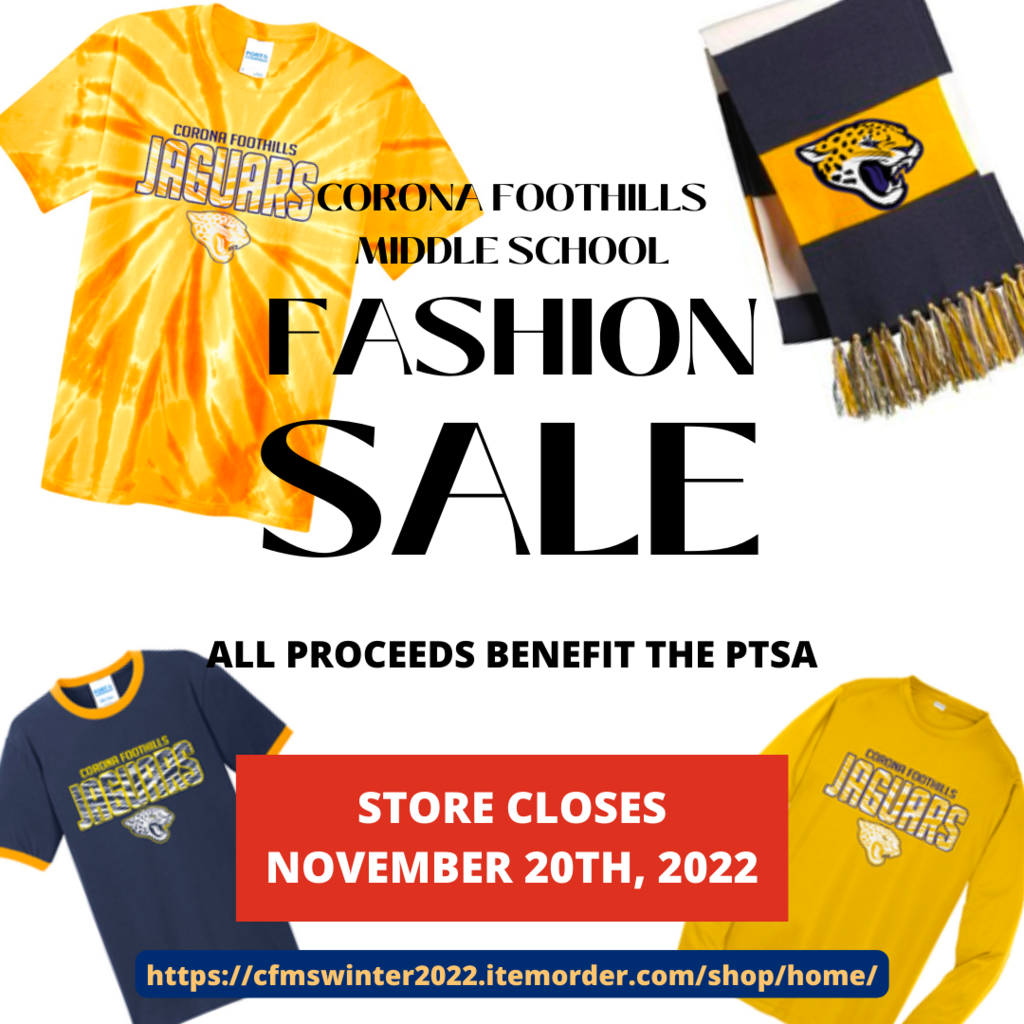 Wednesday the 2nd of November is a half day for students. Students will be released at 11:45 a.m. There will be no after school activities or sports on this day.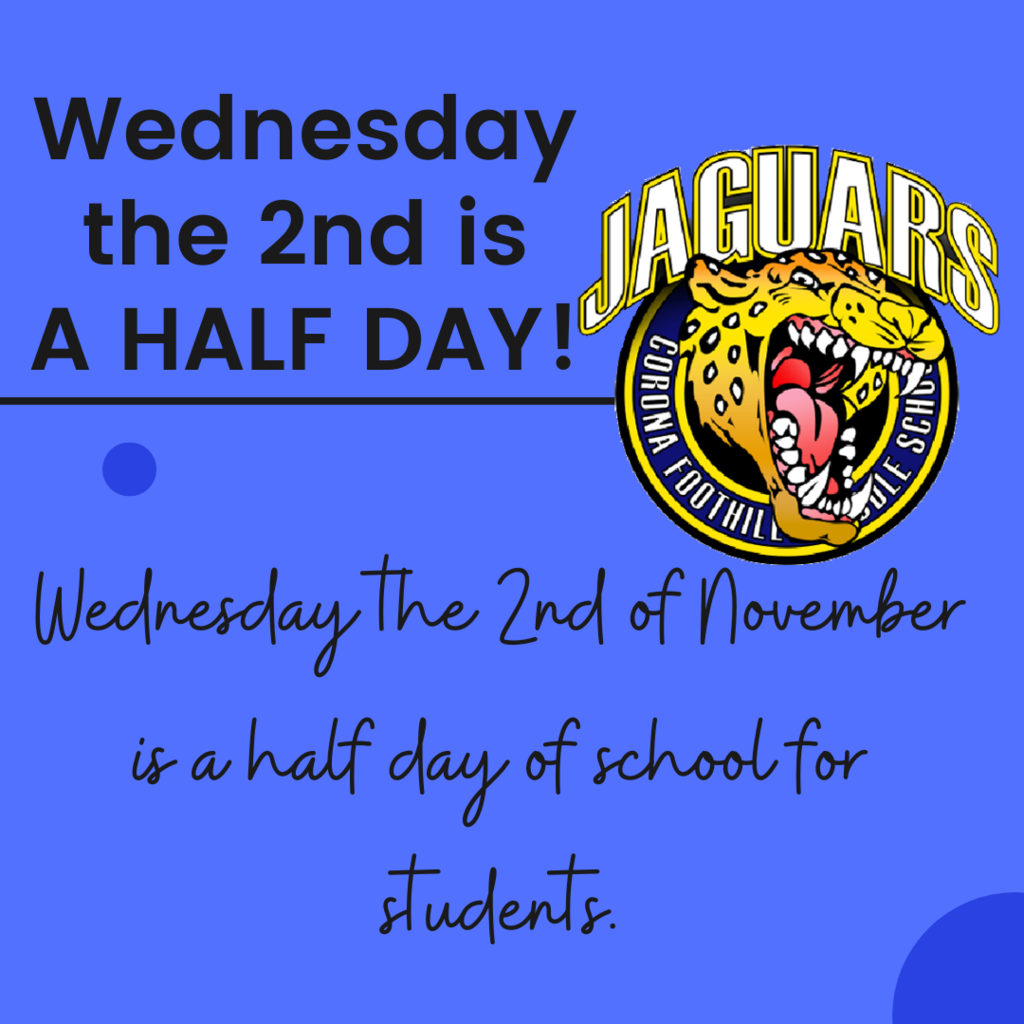 Join us for Red Ribbon Week the week of the 24th through the 28th of October. Spirit week- Monday: "Team Up Against Drugs" - jerseys/sports day Tuesday: "Drugs Can't Find Me" - camouflage day Wednesday: "Too Bright For Drugs" - neon & sunglasses day Thursday: "Life As a Journey w/o Drugs" - dress as a tourist day Friday: "Red Out" - wear red day Friday lunch fair- Visitors from Homeland Security & community youth agencies Activities from Empire High School's SWAT (Student Wellness Advocacy Team) Annual RED OUT contest! Students will receive Corona Cash for participating in activities. RED out contest- Students can enter the Red Out contest at lunch. Winners will receive prizes.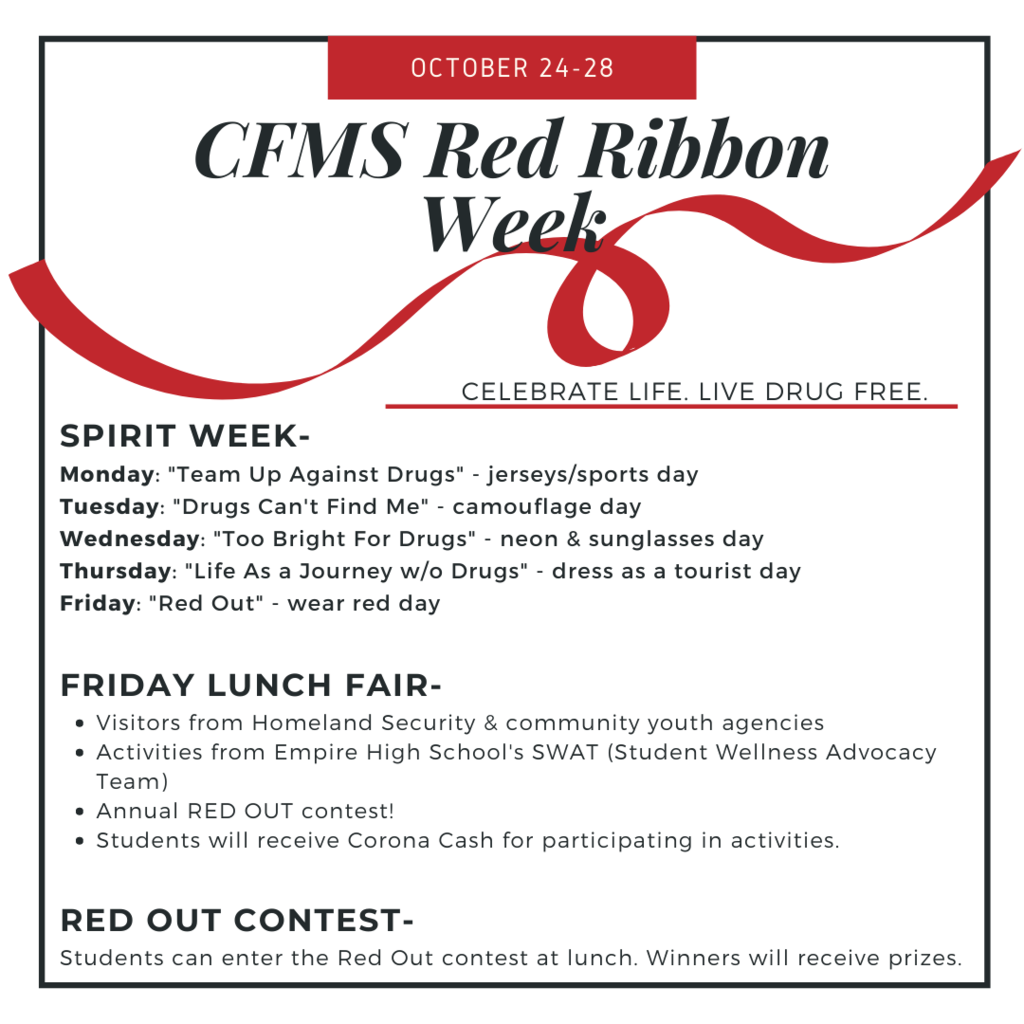 Step by Step instructions: Log into the PowerSchool Parent Portal at
https://ps.vail.k12.az.us/public/
. Select the student you wish to submit the survey for along the top Select the Federal Impact Aid survey icon on the lower left side of the screen Agree to the terms and conditions Click "Begin Survey" Please answer all questions marked with a red asterisk (*) Once you've answered all the questions you will then click "Submit". This will ensure all your information has been filled out and submitted to the school. Thank you for your immediate attention. It is very important that we receive a survey for every student whether you qualify or not!!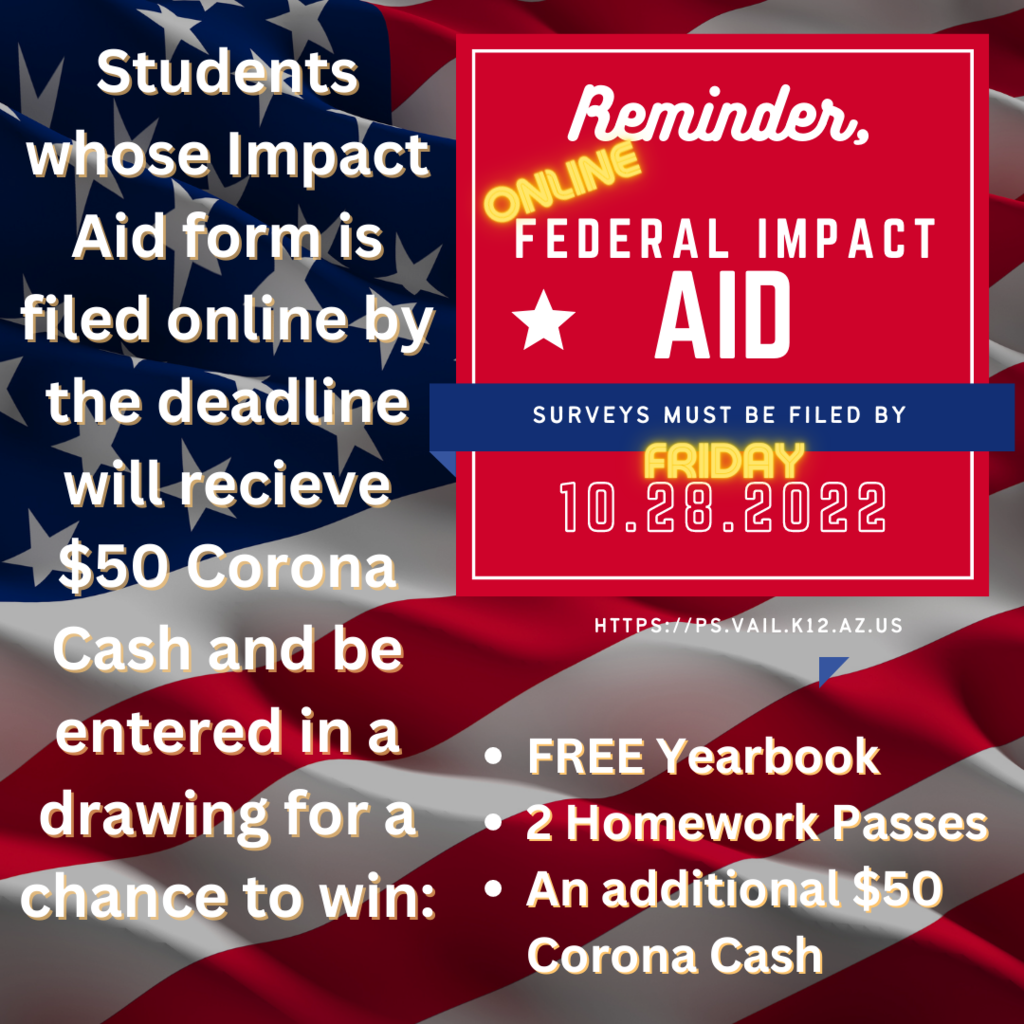 Join us on Friday, October 21st from 5:00 PM until 9:00 PM at Corona Foothills Middle School 16705 S. Houghton Road We will have a night filled with fun and food for K-8 Students, parents, and community members! Be sure to stop by our terror-ific silent auction hosted by the Jaguar PTSA! Wristbands: $10 per person: includes entry to games, inflatables, trick or treating, one entry to the cake walk one entry to the lollipop pull. Cash or check only. DOES NOT INCLUDE FOOD OR OTHER VENDORS Familles: $10 for the first child, $5 for each additional child in the same family. DOES NOT INCLUDE FOOD OR OTHER VENDORS Additional cake walk and lollipop pull tickets can be purchased for $1 each.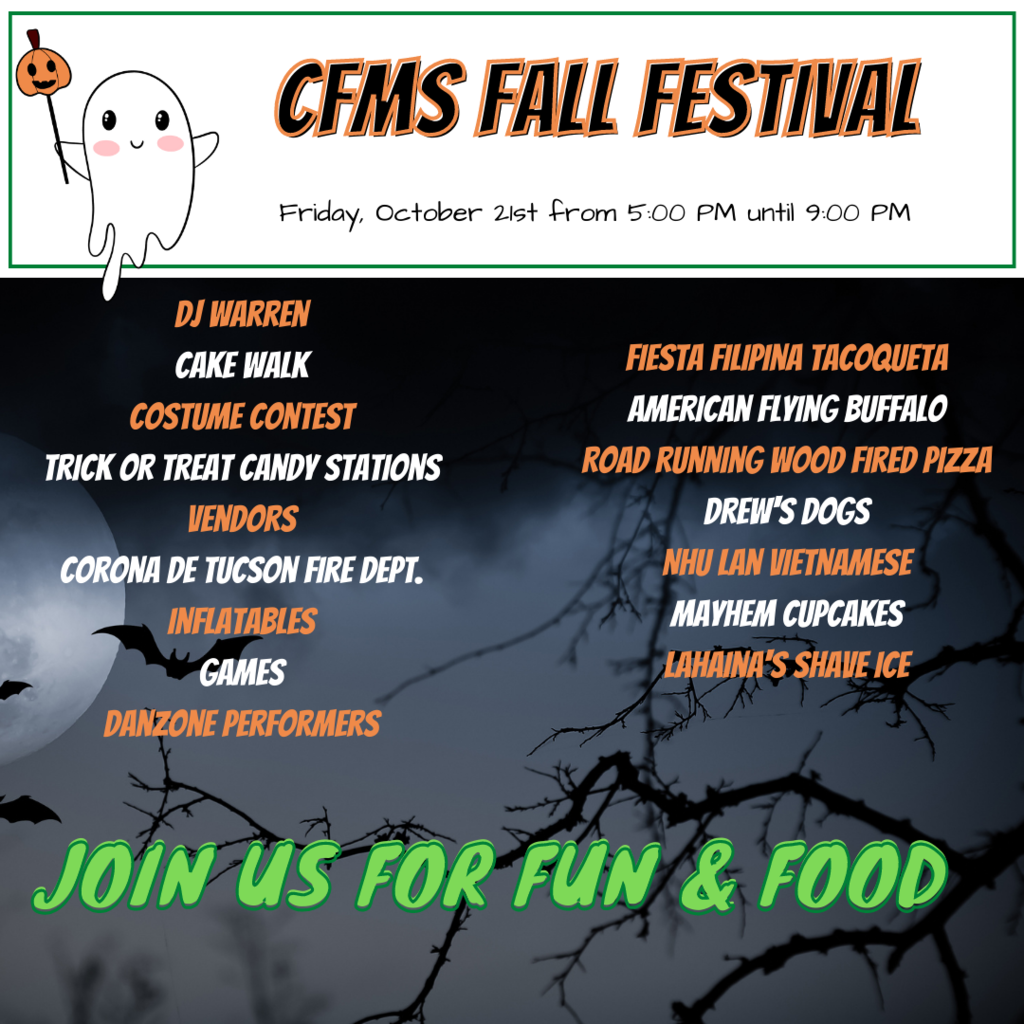 For registration information, please visit our website to download pre-enrollment packet.
https://cfms.vailschooldistrict.org
CFMS Office Hours during Fall break: Week 1 – September 26 – 30 Open 8 am – 3 pm Week 2 -- October 3 – 7 CLOSED Week 3 – October 10 – 14 Open 8 am – 1 pm School resumes Monday, October 17