For registration information, please visit our website to download pre-enrollment packet.
https://cfms.vailschooldistrict.org
CFMS Office Hours during Fall break: Week 1 – September 26 – 30 Open 8 am – 3 pm Week 2 -- October 3 – 7 CLOSED Week 3 – October 10 – 14 Open 8 am – 1 pm School resumes Monday, October 17

Reminder :) First Quarter Honor Roll Ceremonies For Corona Foothills Middle School. In the Gymnasium Friday, September 23, 2022 7:45 - 7th grade 8:45 - 8th grade 9:45 - 6th grade Looking forward to celebrating our students' success!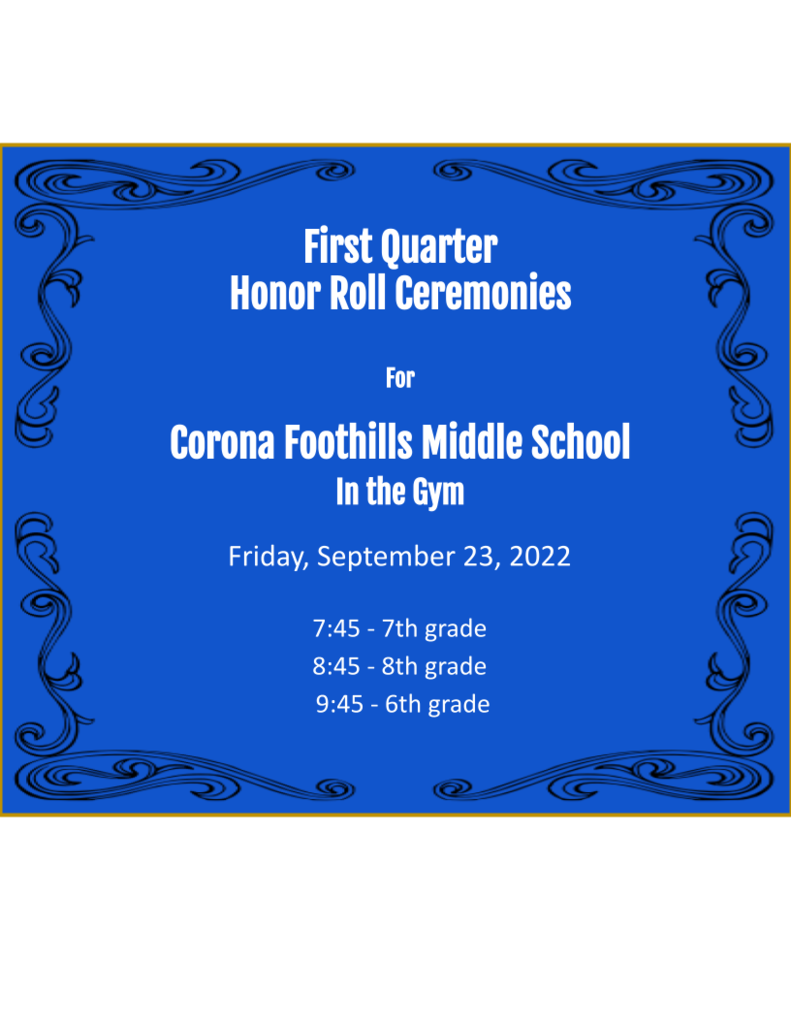 First Quarter Honor Roll Ceremonies For Corona Foothills Middle School. In the Gymnasium Friday, September 23, 2022 7:45 - 7th grade 8:45 - 8th grade 9:45 - 6th grade Looking forward to seeing you there!

Reminder! We have parent/teacher conferences tonight and tomorrow night (Thursday & Friday 15th and 16th of September)! No appointments. Conferences are walk-in only :)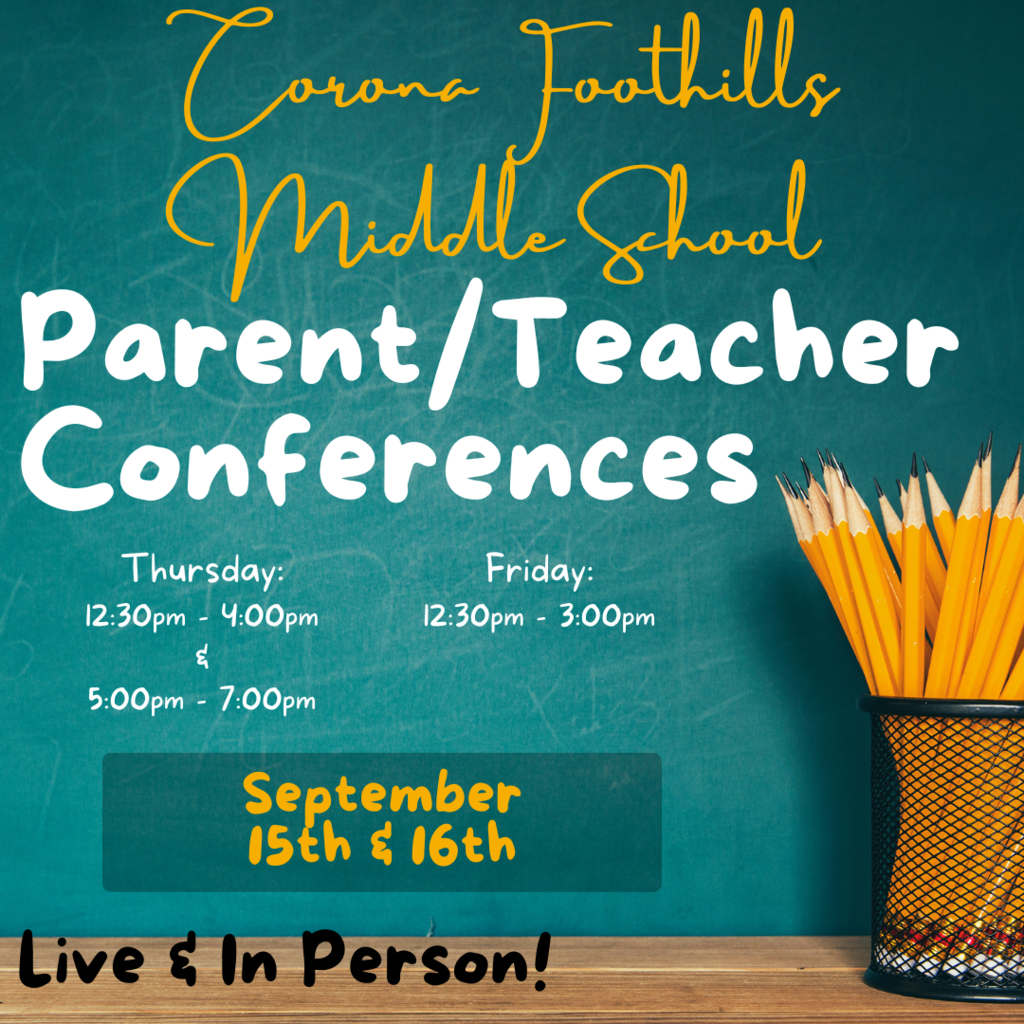 Join us tonight at Skate Country for our Odyssey of the Mind fundraiser. Friday 09 September 5:00 pm - 7:00 pm Admission $4.00 Skate Rental $5.00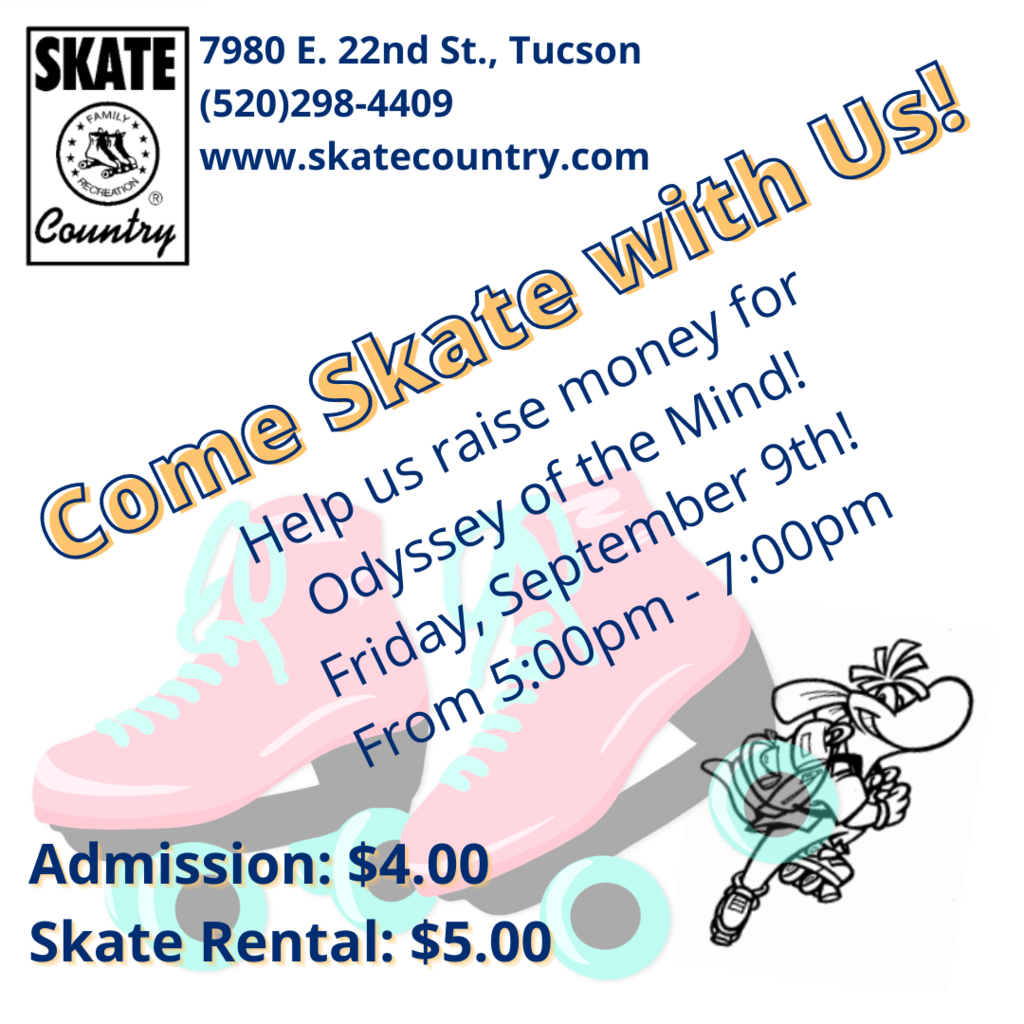 All Vail schools will be closed this Monday the 5th of September for labor day. Enjoy the long weekend!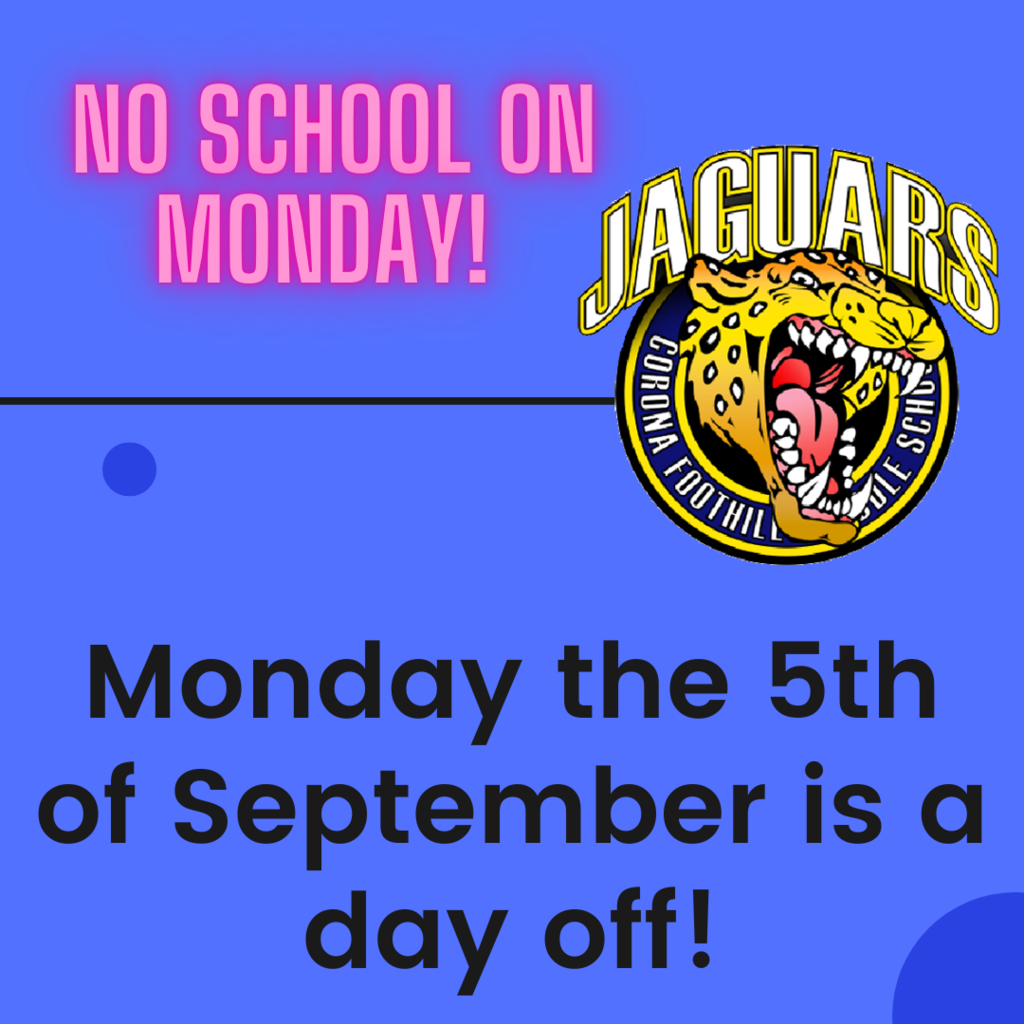 Show your school spirit on Friday the 2nd of September. Wear your favorite college swag!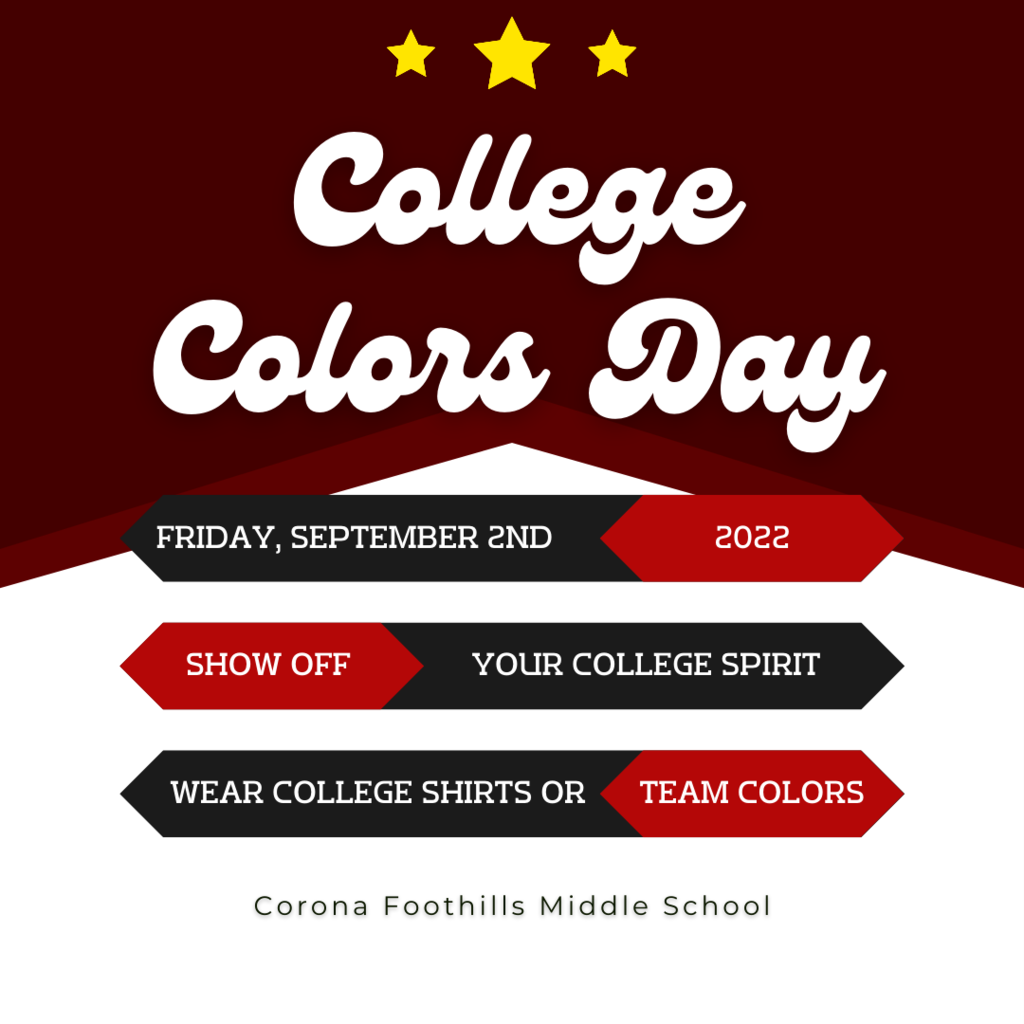 Love to Skate? Looking for a fun Friday activity? Come support the Corona Foothills Odyssey of the Mind team Friday, September 9th at Skate Country! Skate with us between 5-7 p.m. and bring family, friends, and anyone else! Admission is $4.00 and skates are available to rent for $5.00. We look forward to seeing you there!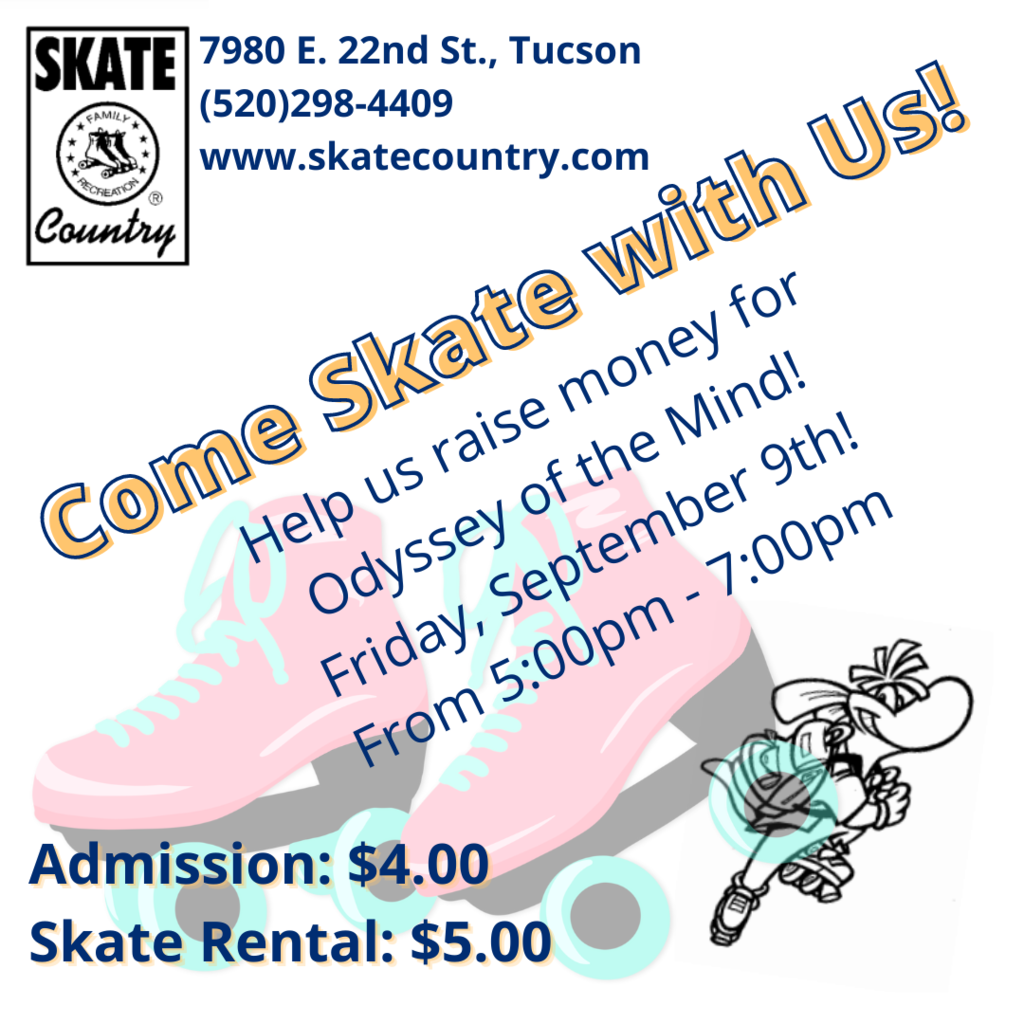 No cooking this Friday, August 26th @ 5:00 PM. Corona Foothills Middle School PTSA will have Fiesta Filipina, Lahaina's Shave Ice, Loly's Tortas & Hot Dogs and Hot Pop's Kettle Corn in the parking lot! A portion of the profits will benefit the Corona Foothills PTSA!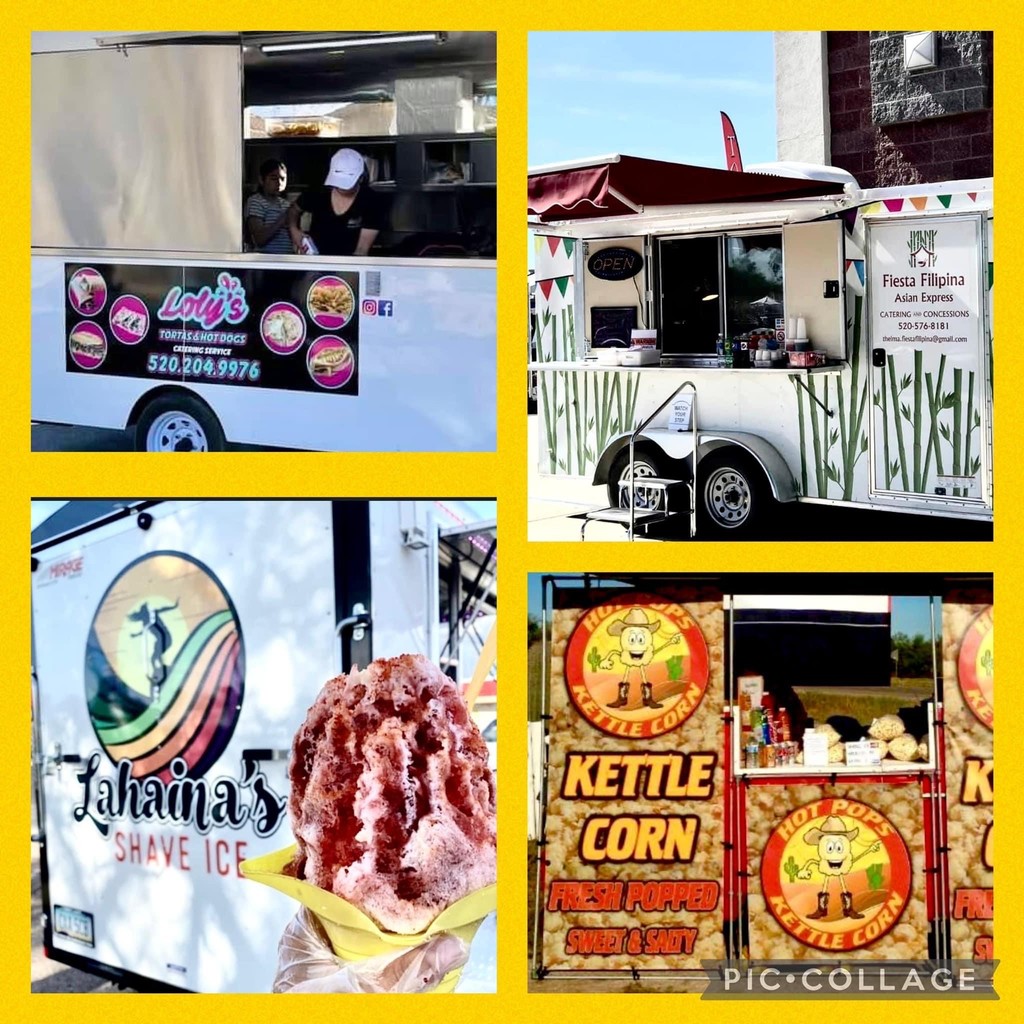 Looking to cool off this evening? We've got you covered! The CFMS PTSA is throwing an ICE CREAM SOCIAL at Dairy Queen on Colossal Cave from 4:00pm until 8:00pm tonight, Wednesday 24 August. Mention the CFMS PTSA when you order!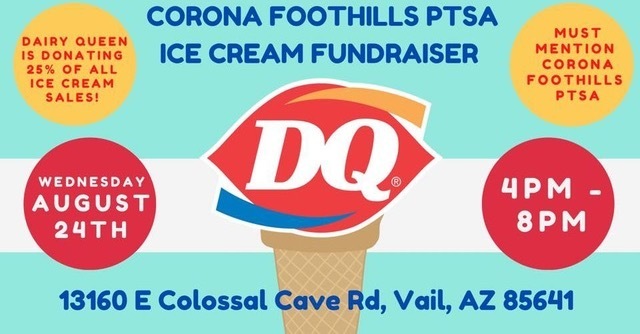 Reminder: Due to weather concerns last week we rescheduled our All Grades Dance to tomorrow, Thursday 25 May. The dance will run from 2:30 pm until 4:00pm. Tickets are $4 and snacks will be available for $1 each.

Good morning Jaguar Families, We apologize for any inconvenience this may cause, but we have decided to postpone our all grades dance until next week (Thursday, August 25th). The factors that led to this decision are weather related. The expected afternoon storm could cause significant problems for travelers in the region with flooding in washes and across main travel routes. This impacts both our transportation department and our parents who pick up. Additionally, the dance is planned for our courtyard area in order to allow students enough physical space for movement and fun; A lightning storm would restrict students to a much smaller area. We thank you for your understanding. If you have any questions or concerns, please reach out to our front office at (520)879-3502. Best,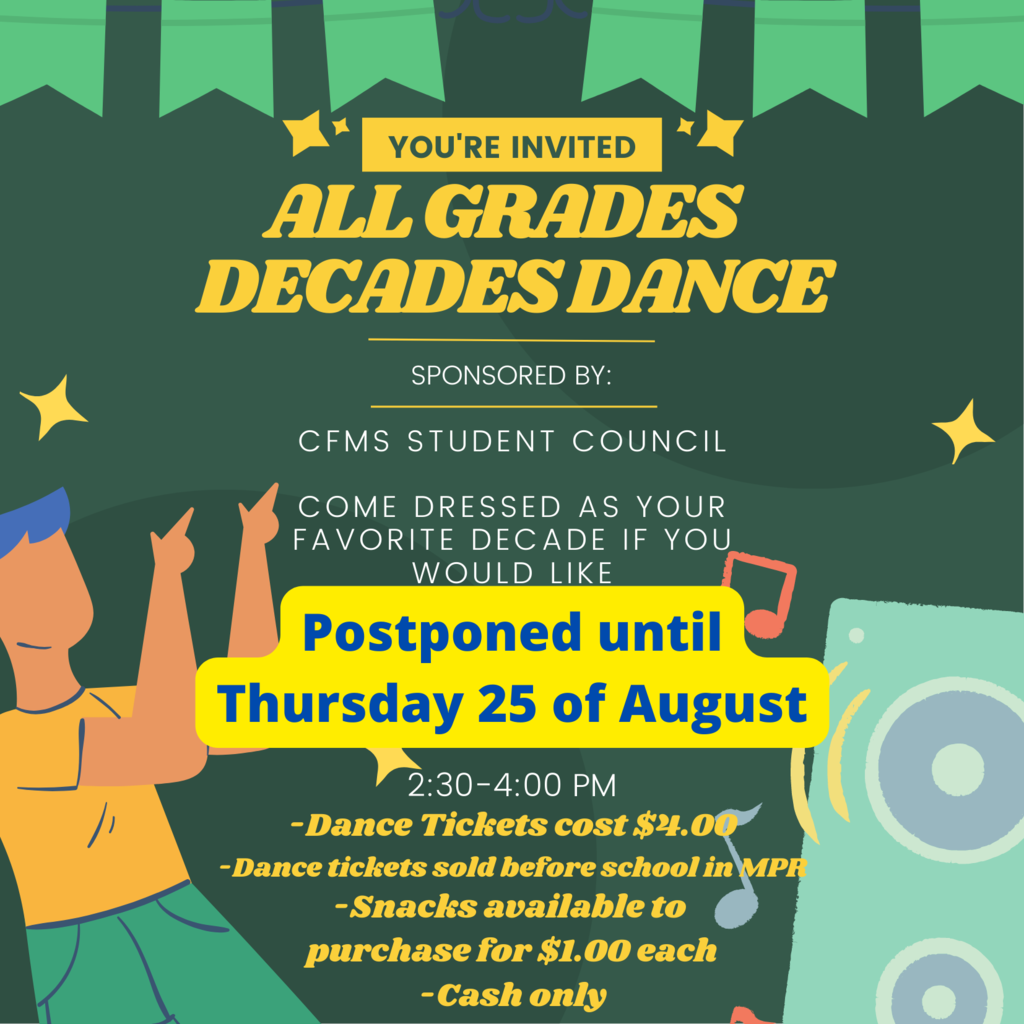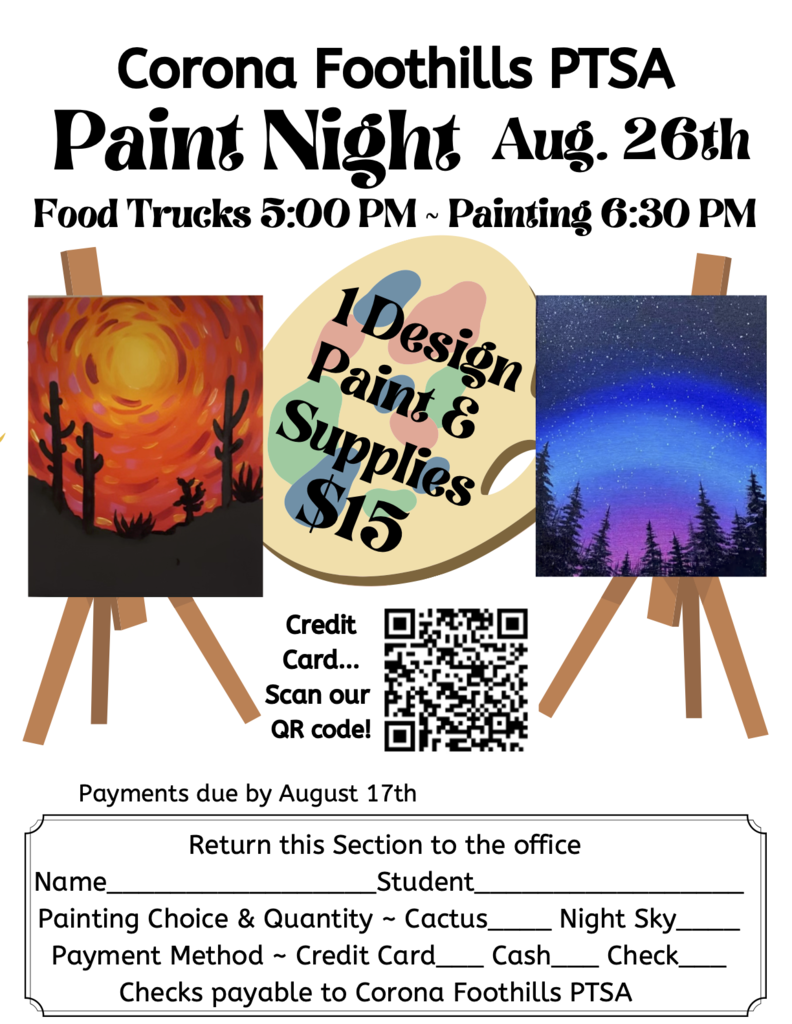 Students are invited to our ALL GRADES DECADES DANCE! Sponsored by the CFMS Student Council Come dressed as your favorite decade if you would like. August 19th, 2022 from 2:30 pm until 4:00 pm -Dance tickets cost $4 and are sold before school in the MPR. -Snacks are available to purchase $1 each. -Cash Onlly

Reminder: Wednesday, August 10th is early release. Dismissal time is 11:49 am. There are no after school activities or activity buses. Thank you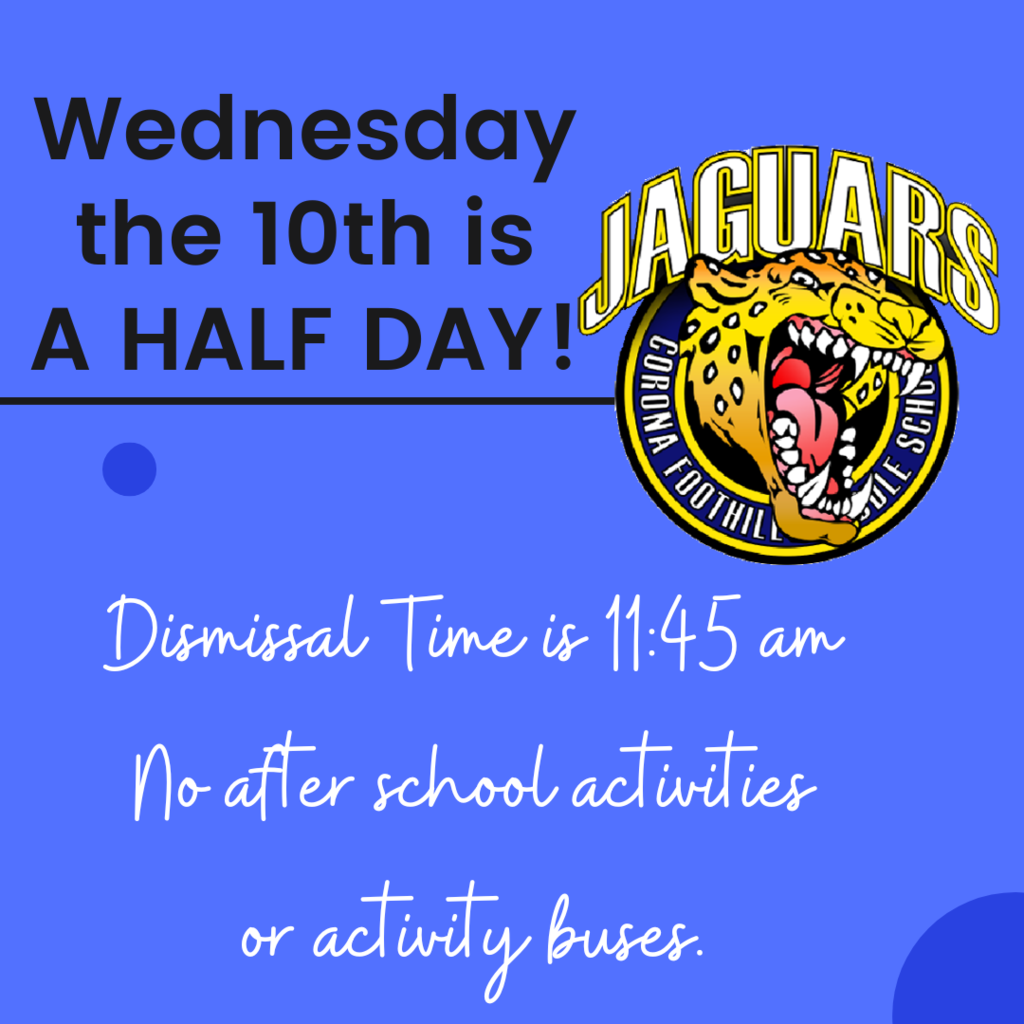 Don't forget; Our annual 6th Grade Only dance is TOMORROW (Friday)! 6th Grade students and WEB Leaders are invited to join us on Friday the 5th of August from 2:30pm until 4:00pm in the CFMS Courtyard. Admission is FREE! Snacks and Drinks will be available for $1.00 each.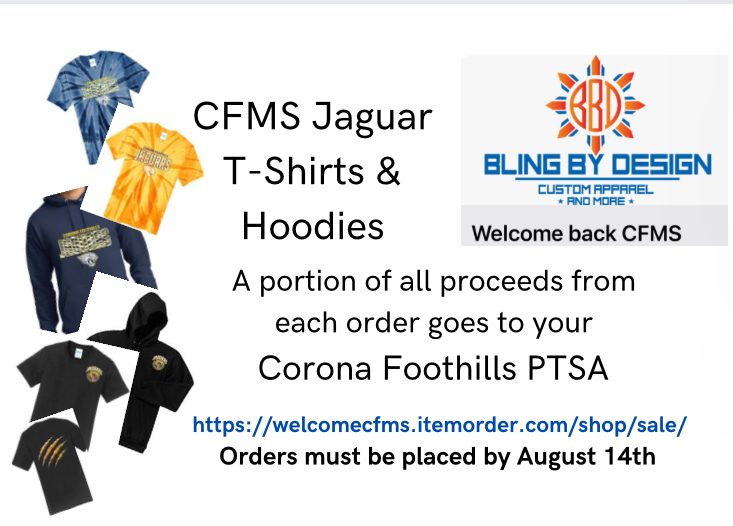 Corona Foothills PTSA Paint Night Aug. 26th Food Trucks 5:00 PM ~ Painting 6:30 PM 1 Design, Paint, & Supplies - $15.00 Here's the link to the flyer in PDF:
https://5il.co/1fcbo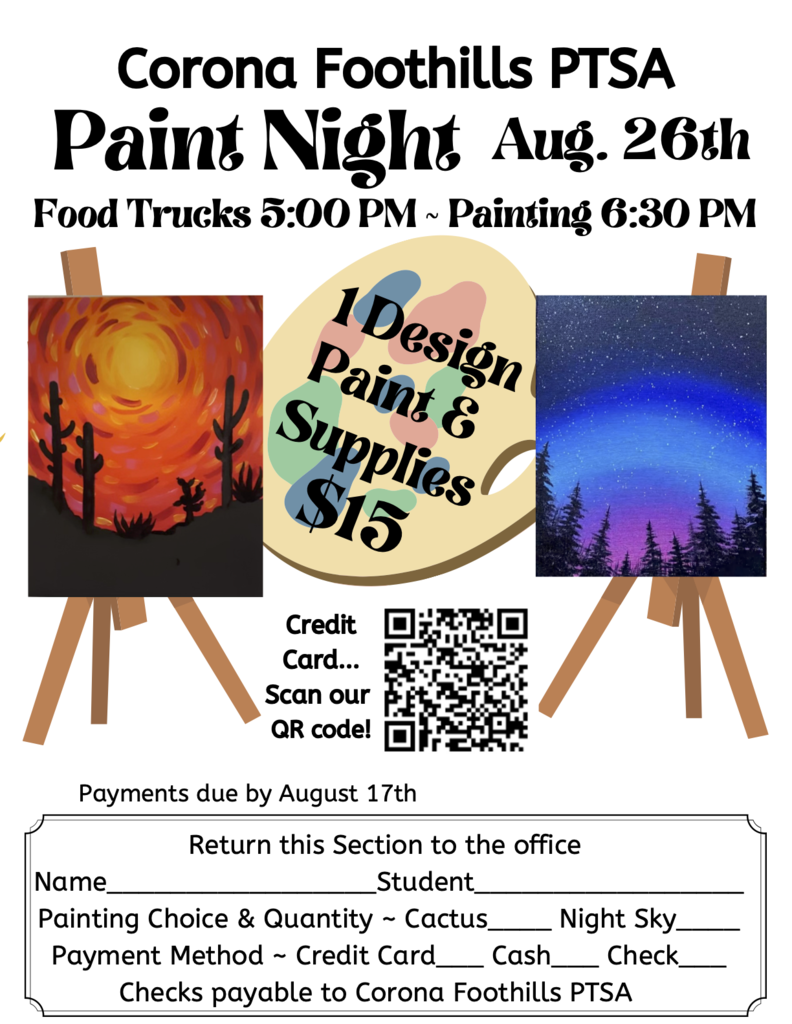 Ms. Sautter and Mrs. Ramos have a huge favor to ask for our CFMS STEM classes. Could you save empty water and soda bottles (16- 20 oz) with caps on? Additionally, we will need bottle lids from 2 & 3 liter bottles. Also, if you or anyone you know have any thread spools, we would gladly take them off your hands. All materials can be given directly to your STEM teacher or dropped off in the front office.