Show your school spirit on Friday the 2nd of September. Wear your favorite college swag!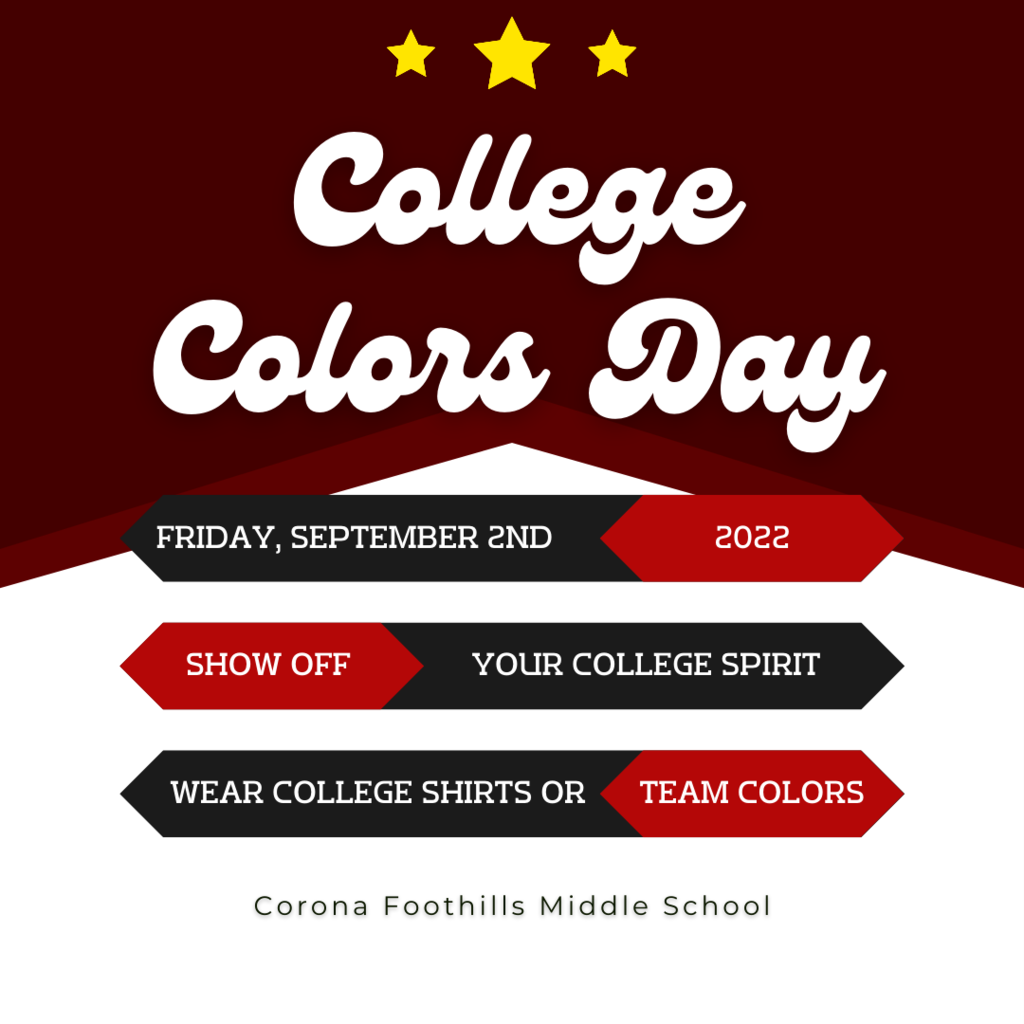 Love to Skate? Looking for a fun Friday activity? Come support the Corona Foothills Odyssey of the Mind team Friday, September 9th at Skate Country! Skate with us between 5-7 p.m. and bring family, friends, and anyone else! Admission is $4.00 and skates are available to rent for $5.00. We look forward to seeing you there!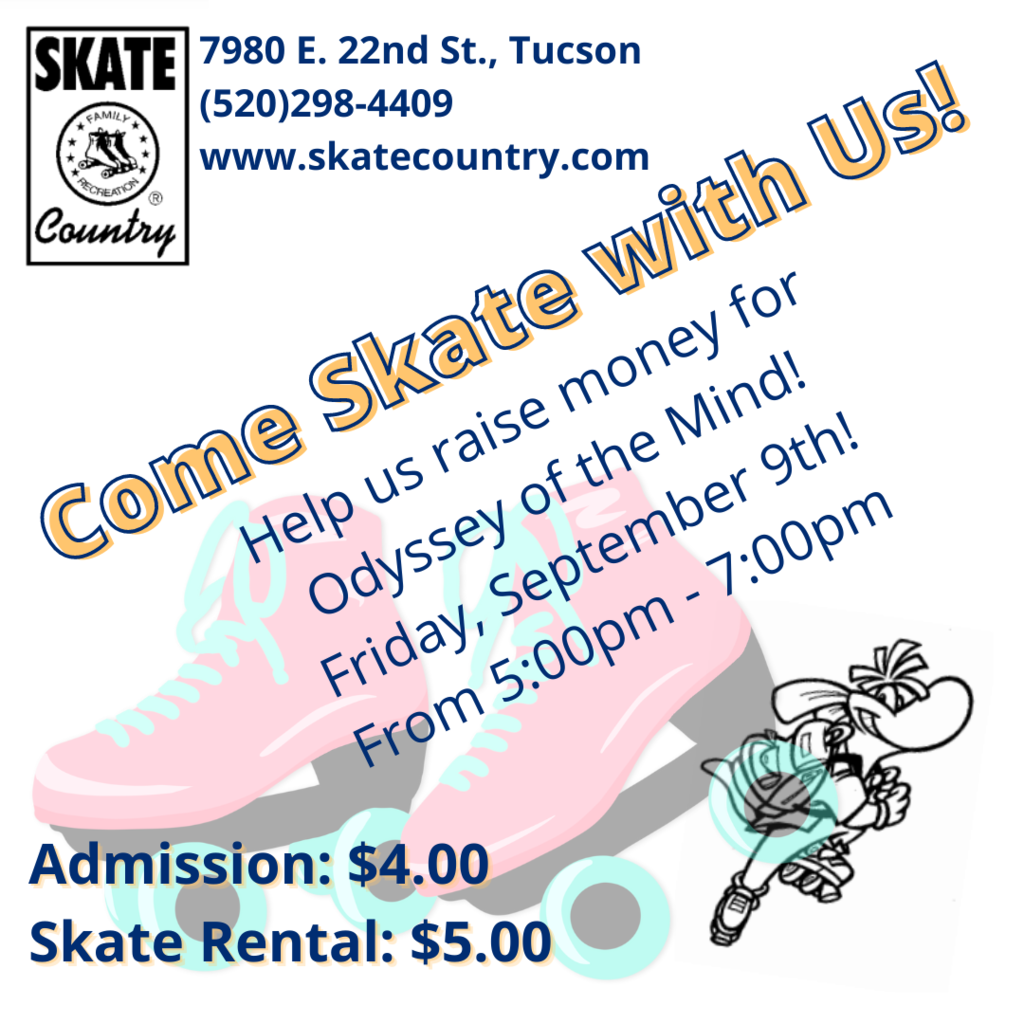 No cooking this Friday, August 26th @ 5:00 PM. Corona Foothills Middle School PTSA will have Fiesta Filipina, Lahaina's Shave Ice, Loly's Tortas & Hot Dogs and Hot Pop's Kettle Corn in the parking lot! A portion of the profits will benefit the Corona Foothills PTSA!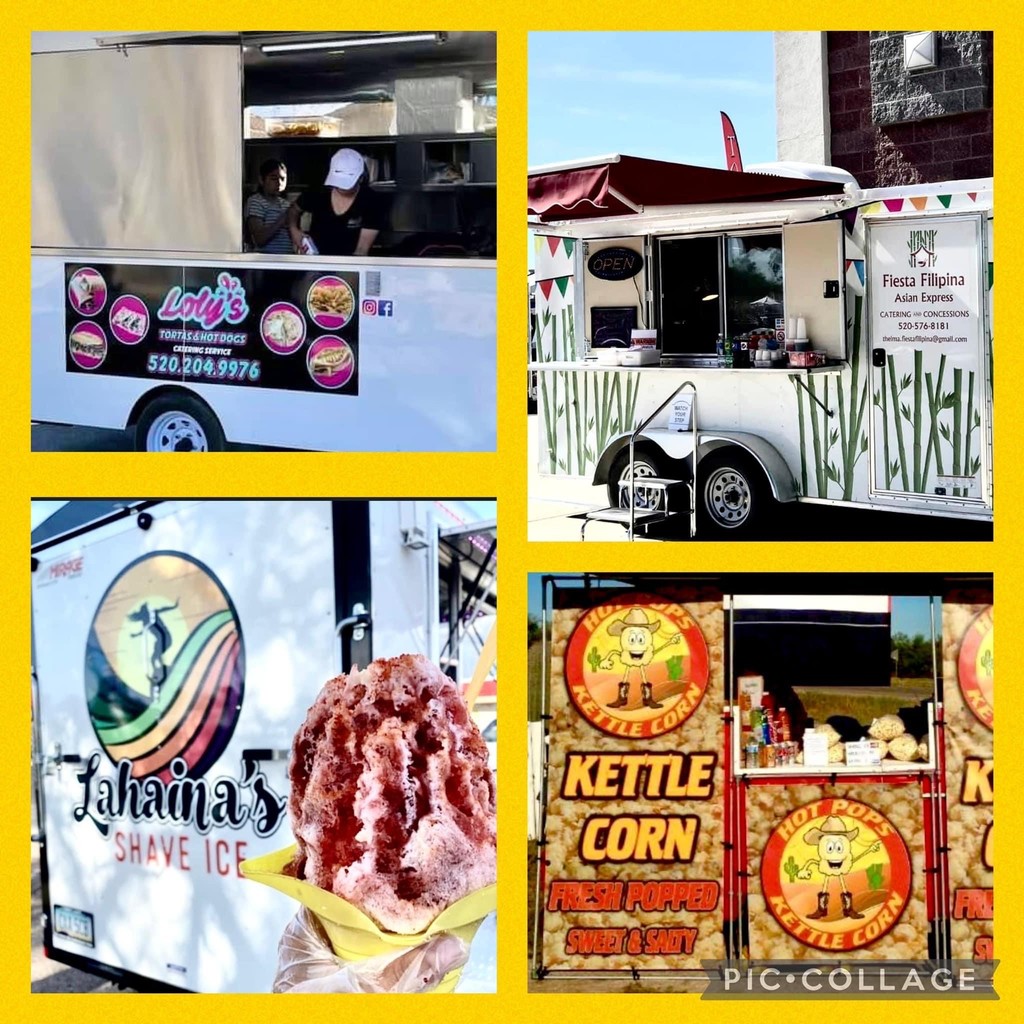 Looking to cool off this evening? We've got you covered! The CFMS PTSA is throwing an ICE CREAM SOCIAL at Dairy Queen on Colossal Cave from 4:00pm until 8:00pm tonight, Wednesday 24 August. Mention the CFMS PTSA when you order!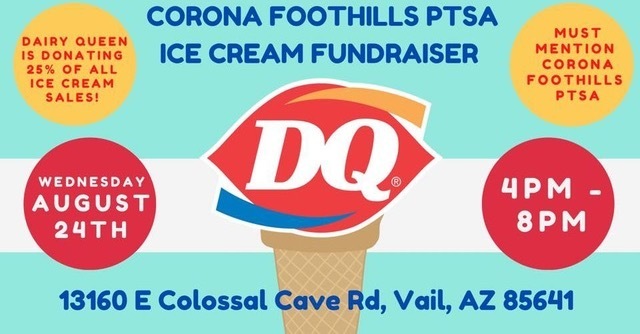 Reminder: Due to weather concerns last week we rescheduled our All Grades Dance to tomorrow, Thursday 25 May. The dance will run from 2:30 pm until 4:00pm. Tickets are $4 and snacks will be available for $1 each.

Good morning Jaguar Families, We apologize for any inconvenience this may cause, but we have decided to postpone our all grades dance until next week (Thursday, August 25th). The factors that led to this decision are weather related. The expected afternoon storm could cause significant problems for travelers in the region with flooding in washes and across main travel routes. This impacts both our transportation department and our parents who pick up. Additionally, the dance is planned for our courtyard area in order to allow students enough physical space for movement and fun; A lightning storm would restrict students to a much smaller area. We thank you for your understanding. If you have any questions or concerns, please reach out to our front office at (520)879-3502. Best,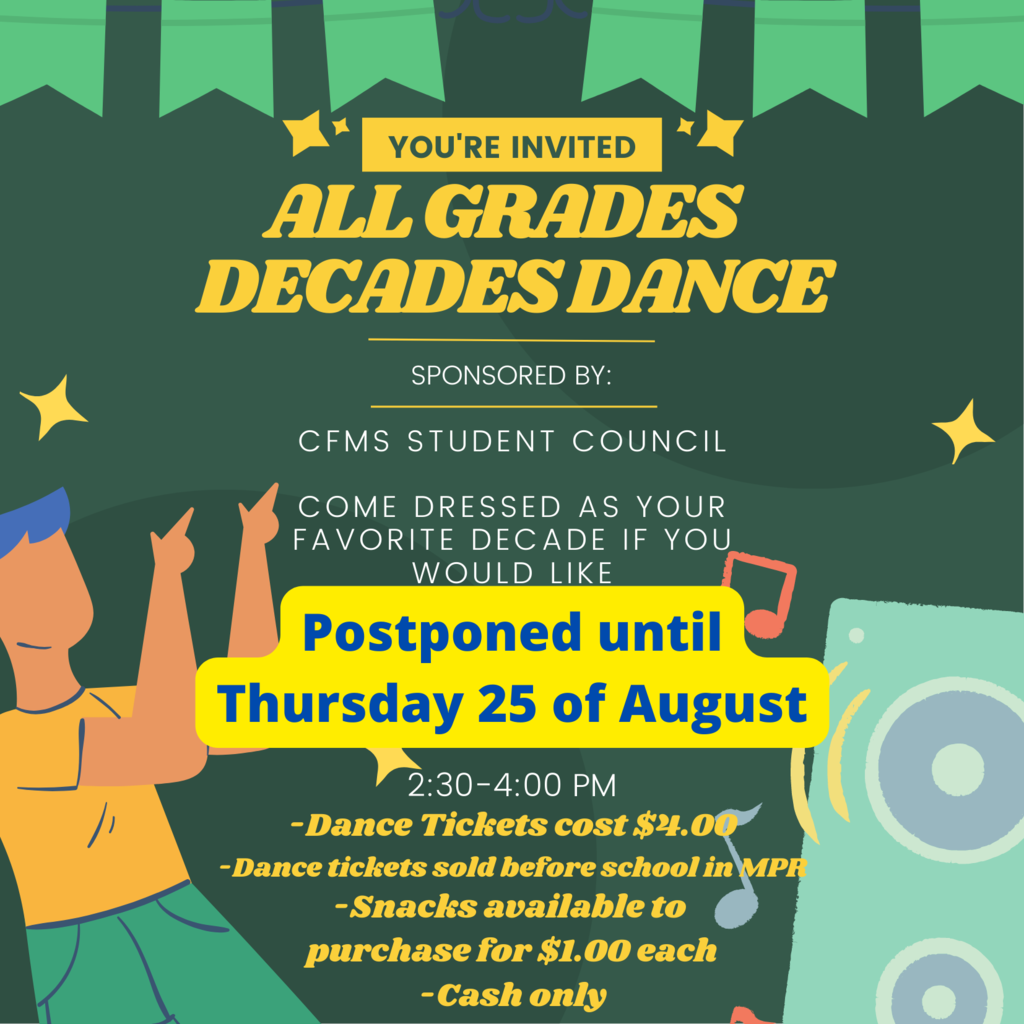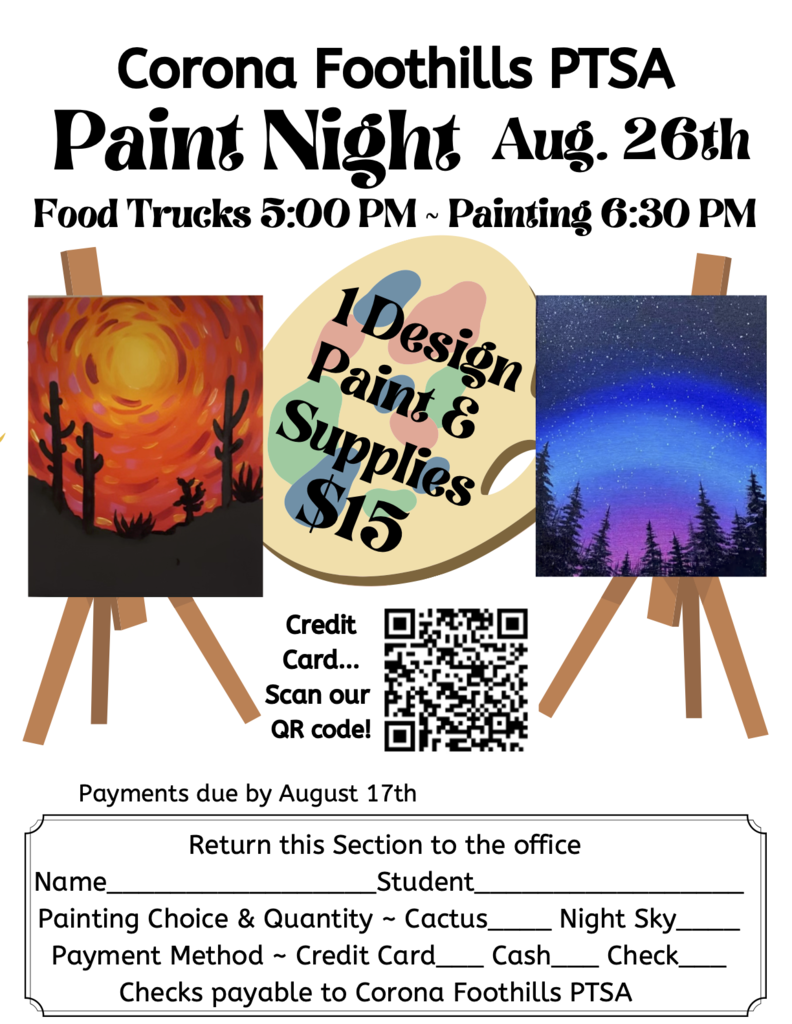 Students are invited to our ALL GRADES DECADES DANCE! Sponsored by the CFMS Student Council Come dressed as your favorite decade if you would like. August 19th, 2022 from 2:30 pm until 4:00 pm -Dance tickets cost $4 and are sold before school in the MPR. -Snacks are available to purchase $1 each. -Cash Onlly

Reminder: Wednesday, August 10th is early release. Dismissal time is 11:49 am. There are no after school activities or activity buses. Thank you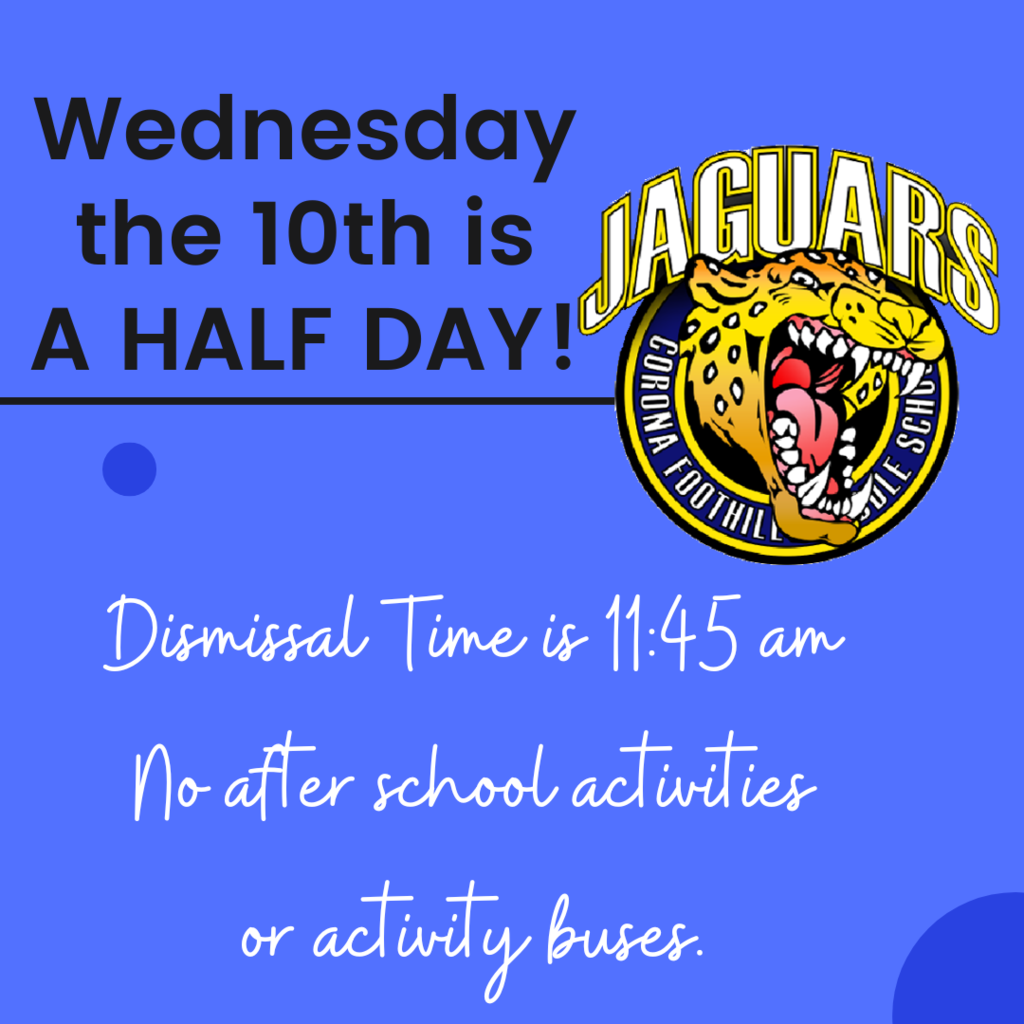 Don't forget; Our annual 6th Grade Only dance is TOMORROW (Friday)! 6th Grade students and WEB Leaders are invited to join us on Friday the 5th of August from 2:30pm until 4:00pm in the CFMS Courtyard. Admission is FREE! Snacks and Drinks will be available for $1.00 each.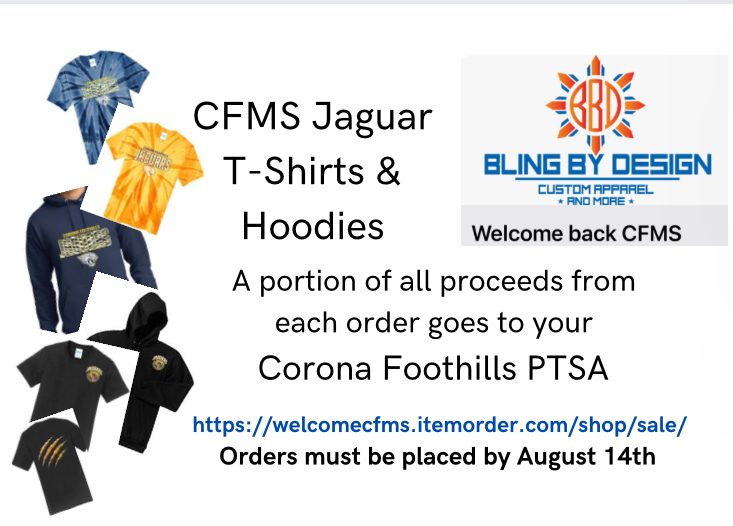 Corona Foothills PTSA Paint Night Aug. 26th Food Trucks 5:00 PM ~ Painting 6:30 PM 1 Design, Paint, & Supplies - $15.00 Here's the link to the flyer in PDF:
https://5il.co/1fcbo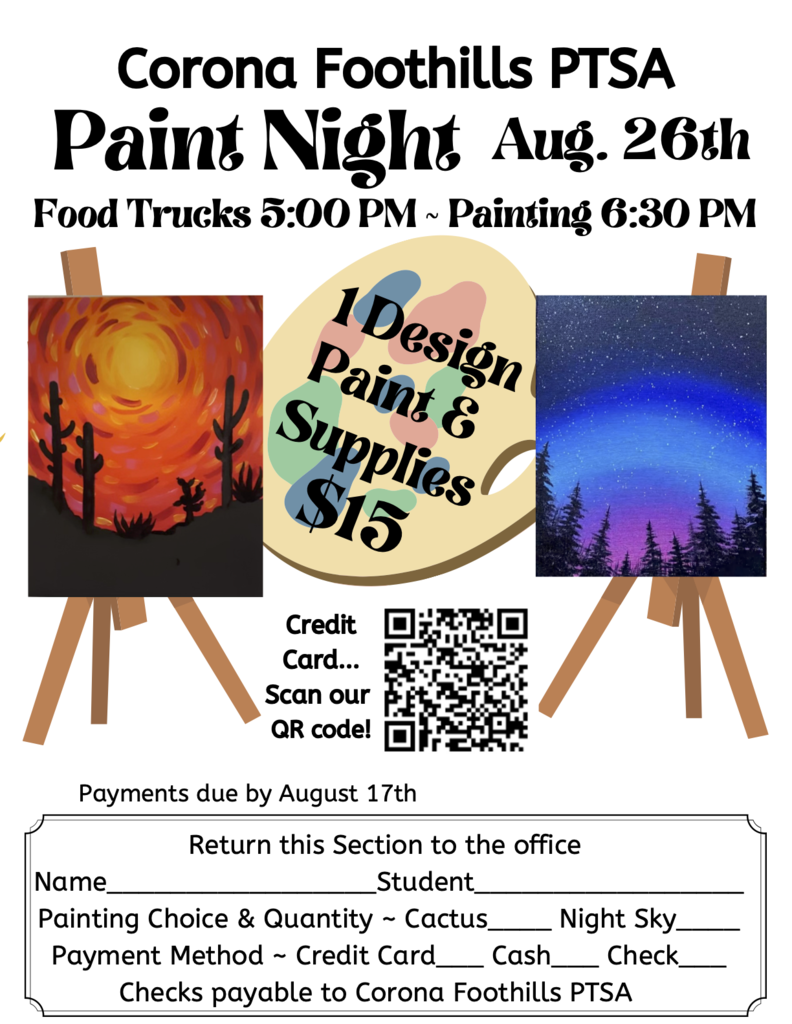 Ms. Sautter and Mrs. Ramos have a huge favor to ask for our CFMS STEM classes. Could you save empty water and soda bottles (16- 20 oz) with caps on? Additionally, we will need bottle lids from 2 & 3 liter bottles. Also, if you or anyone you know have any thread spools, we would gladly take them off your hands. All materials can be given directly to your STEM teacher or dropped off in the front office.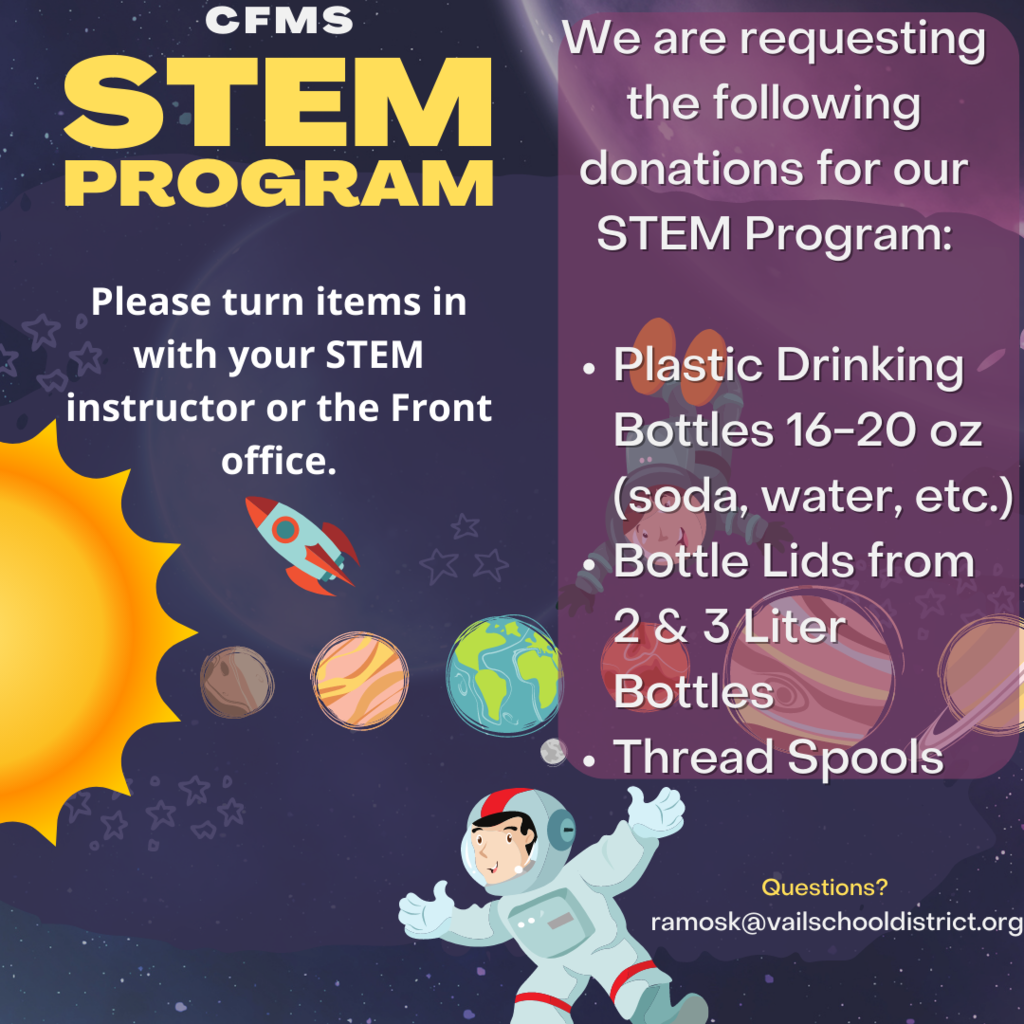 Happening now! Vail is hard at work collecting school supplies at CHS to be distributed across the district. Swing by and help any way you can!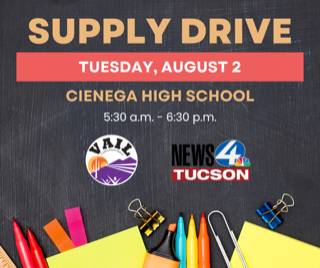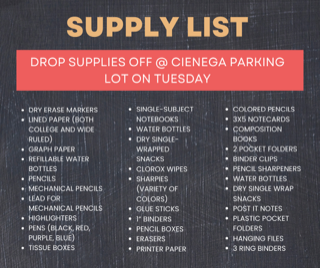 Our annual 6th Grade Only dance is this Friday! 6th Grade students and WEB Leaders are invited to join us on Friday the 5th of August from 2:30pm until 4:00pm in the CFMS Courtyard. Admission is FREE! Snacks and Drinks will be available for $1.00 each.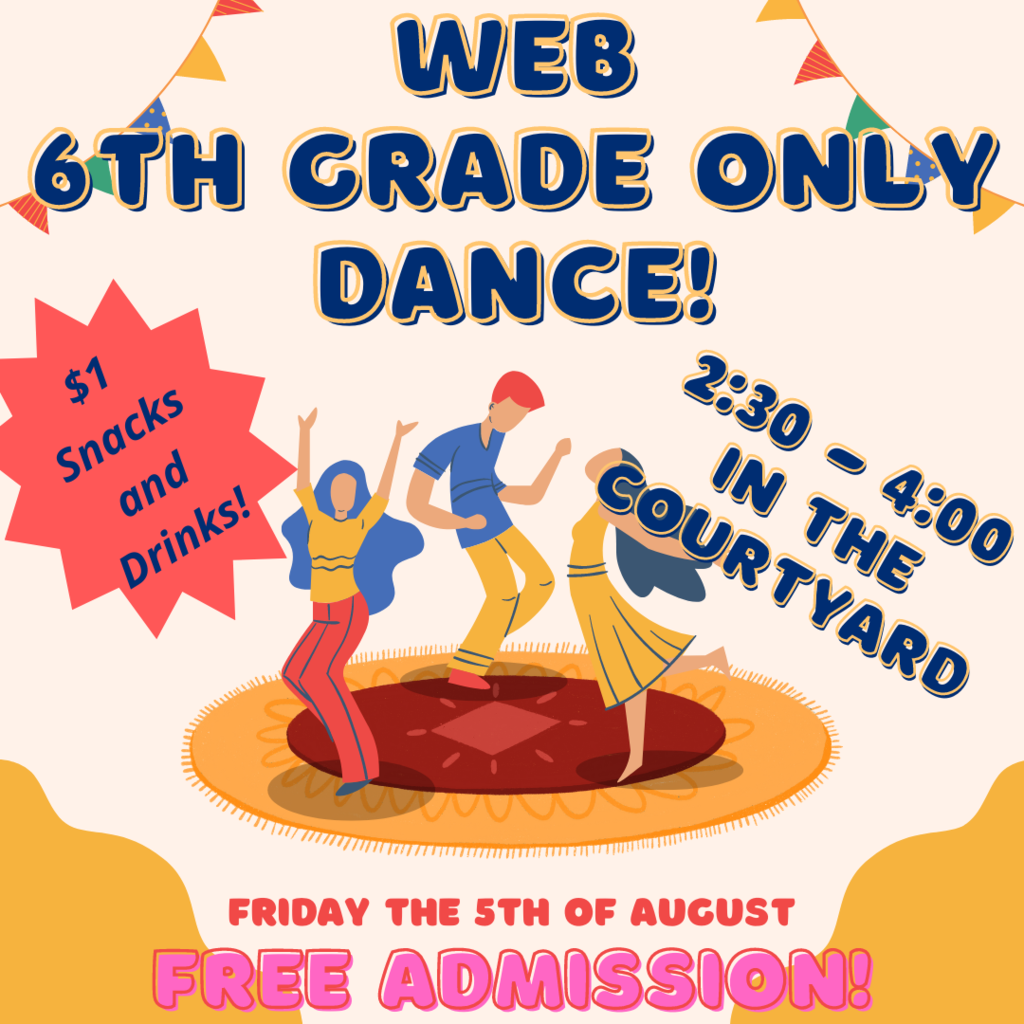 Don't forget! Students do not have school this coming Monday 01 August. We will be back to school on Tuesday 02 August. Enjoy your long weekend!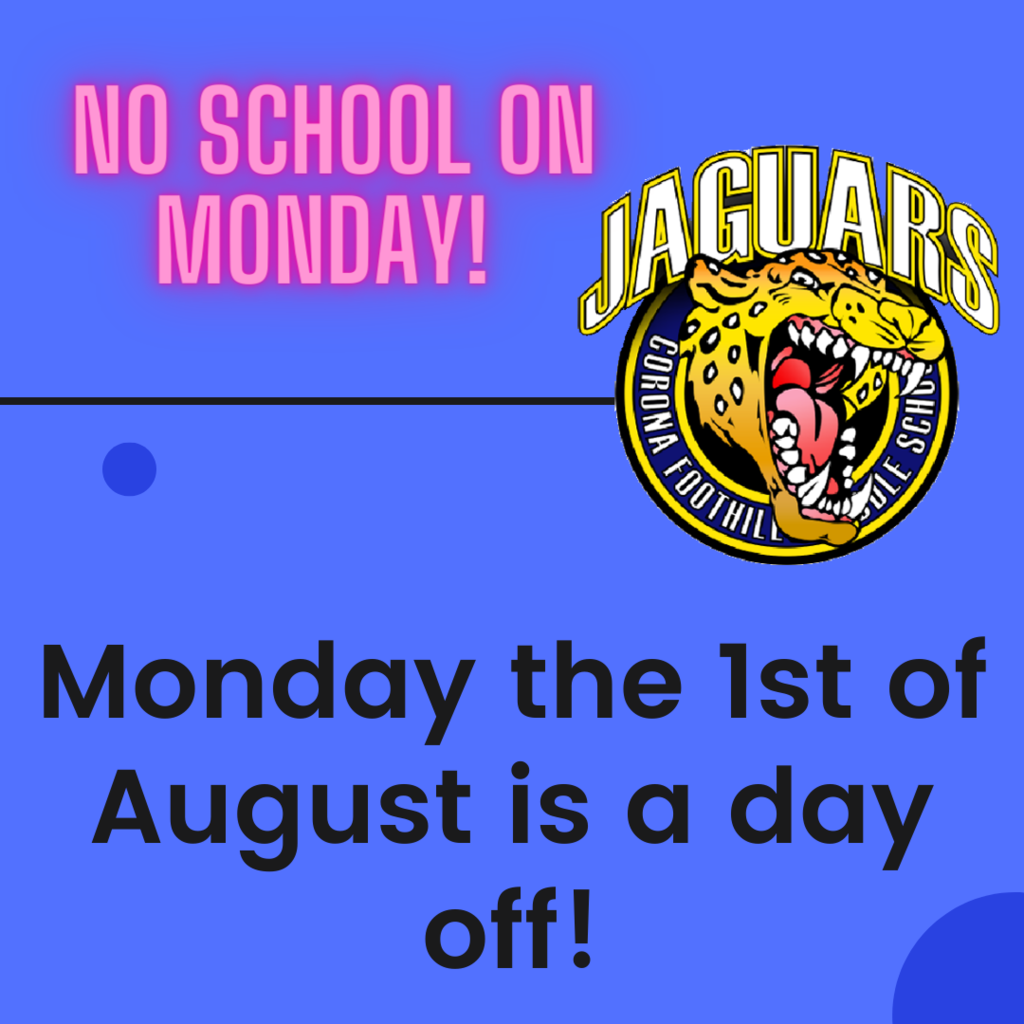 We are inviting all parents of children birth thru teen to join us for a 5 week parenting class taught by Pastor Robin Blumenthal and certified trainer Regan Andrews. Wednesday Evenings from 6:30-8:00 PM August 17 – September 14 in KZ 9-10 Through video, workbooks and discussion, you will learn to take the stress out of parenting! No more lectures, threats or fights - learn to let the consequences do the teaching – and have fun at the same time! This class has received rave reviews from thousands of parents – come see why! This is what parents are saying... • "After 1 week my child's teacher asked what I was doing different with my son!" • "This class has really introduced techniques that are working!" • "Incredible to be able to use your brain and teach kids as you go!" • "It has helped me to know what to do in every situation and how to completely prepare my children for adulthood." • "After 1 week, the dynamics in our family totally changed" We offer fun & exciting programming for children birth through middle school free of cost. Cost of the training may be found at pantano.church/classes Class space is limited, so register early online at pantano.church/classes or by calling Liz Kim at 298-5395 x221. To check out more about Parenting the Love and Logic Way, visit their website at loveandlogic.com Pantano Christian Church 1755 S. Houghton Road Tucson, AZ 85748 (North East corner of Houghton & 29th Street between 22nd and Old Spanish Trail) The Vail Unified School District neither endorses nor sponsors the organization or activity represented in this material. The distribution or display of this material is provided as a community service.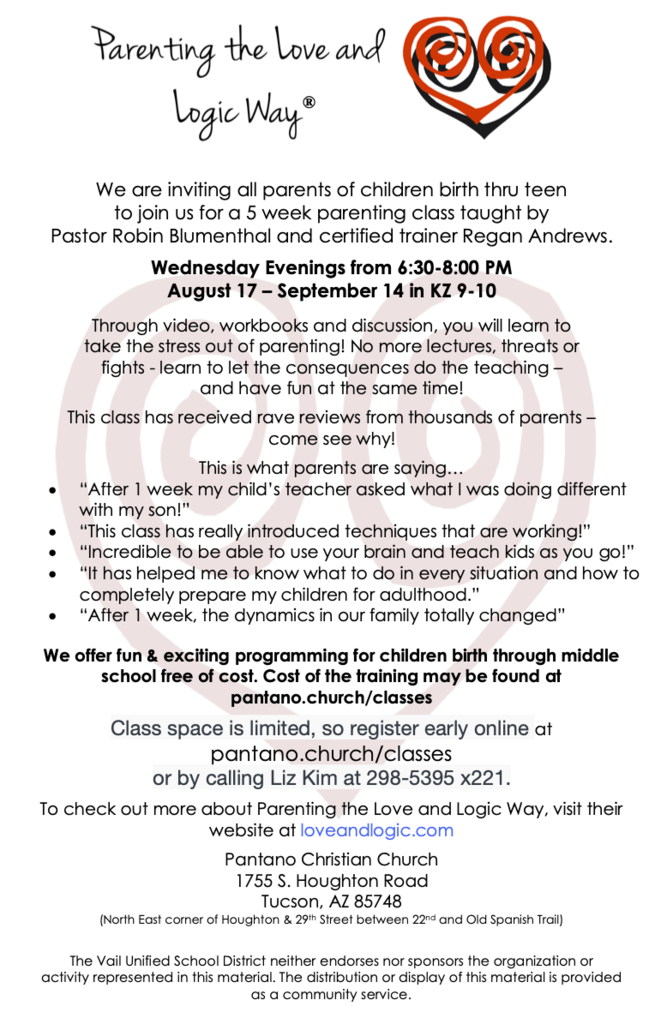 Picture Day for Corona Foothills Middle School is scheduled for Thursday, Aug 18. This event's Order Code is 69343HF. Online ordering is available before and after Picture Day. Shipping and handling charges may apply to orders placed after Picture Day. Visit inter-state.com for online ordering!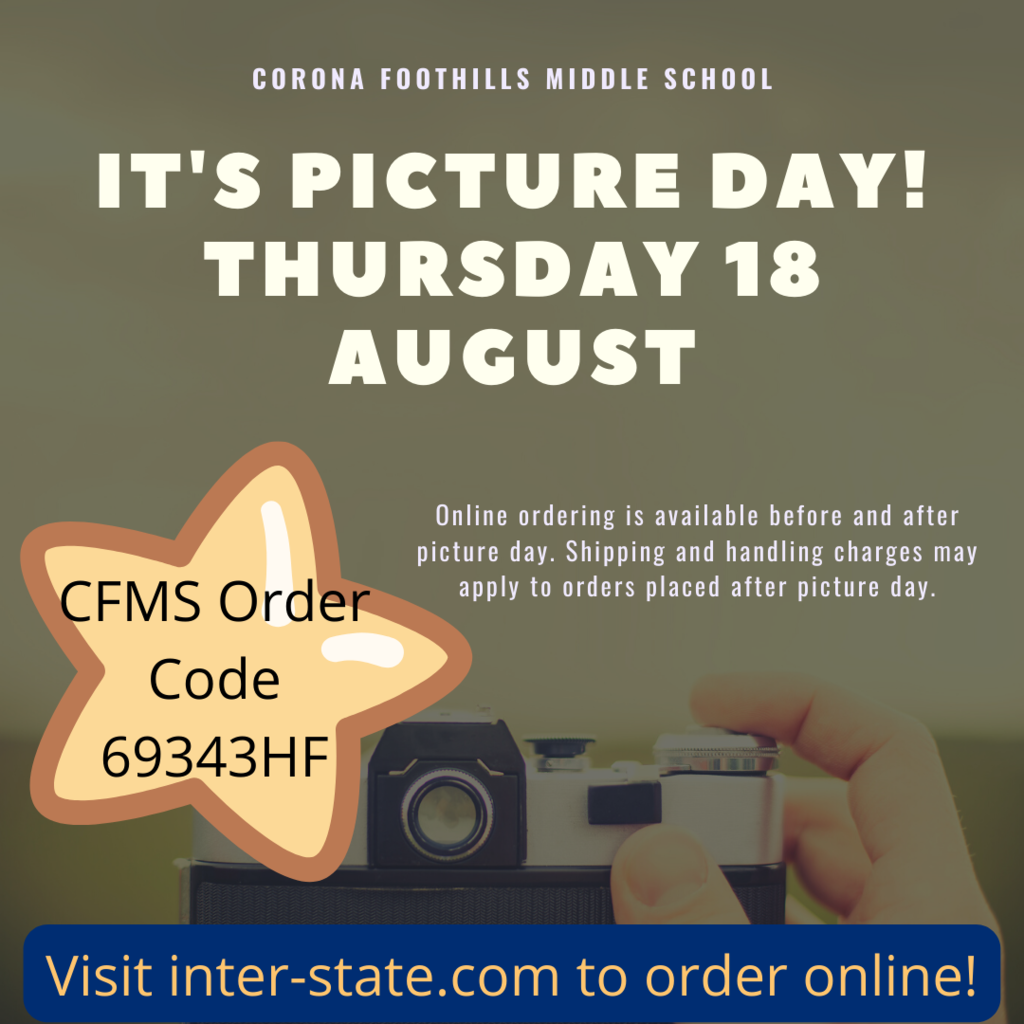 Hello Jaguar Families! We are distributing student ChromeBooks starting next week. If you have multiple students in different grades, please plan to pick up all of their laptops in one visit. The following will be required at pickup: •Insurance Declaration •Signed Responsible Use Policy •Laptop Sleeve (13" laptop) We will NOT release student devices to you without ALL of the above. Dates & Times: Tuesday 12 July 8th Grade Students from Noon until 5:00 pm Wednesday 13 July 6th Grade Students from Noon until 5:00 pm Thursday 14 July 7th Grade Students from Noon until 5:00 pm All Grade Levels from 5:00 pm until 9:00 pm Follow the link in our image or visit cfms.vailschooldistrict.org for more information!. If you have any questions, please reach out to our technology coordinator at
littlej@vailschooldistrict.org